World news story
Queen's 91st Birthday celebrated in Macedonia
British Embassy hosts Queen's 91st Birthday Party marking UK and Macedonia partnership and cooperation in diverse areas.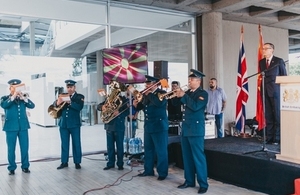 British Embassy in Macedonia welcomed guests from politics, business, diplomats, defence, civil society, media, academics and education specialists, artists, British community in Macedonia, commercial partners of the Embassy and Chevening scholars to celebrate the 91st birthday of Her Majesty The Queen.
Guests were welcomed by Her Majesty's Ambassador Charles Garrett and Mrs Veronique Garrett, Deputy Head of Mission Paul Edwards and Mrs Jane Edwards, Defence Attaché Lt Col Richard Parry and Mrs Fatime Parry.
Speaking at the event our Ambassador Charles Garrett said:
The relationship between the United Kingdom and Macedonia, between our societies, goes much wider than pure politics. It rests on thousands of links between individuals and organisations in our two countries, many of which pre-date Macedonia's independence, and all of which we have continued to nurture as sovereign partners.
Culture is another powerful ingredient in our bilateral relationship. The British Council have done great work in Macedonia to throw open the window on British culture. I am sure many of you last summer saw New Religion, an exhibition of Damien Hirst's work. Another favourite, for me, from the British Council was this year's inaugural PlayUK film festival which opened with the Balkan premiere of Danny Boyle's latest film T2 Trainspotting. A great film, and a great initiative. More widely, sporting and cultural links between Britain and Macedonia are thriving. Sting's concert in October is just one event I have my eye on. Another, although as an Arsenal fan I find this a little painful is Manchester United's visit to Skopje in August for the Super Cup, which they earned through victory in the Europa League.
The coming year will mark a quarter of a century since the UK recognised the Republic of Macedonia. We look forward to continuing to build our relationship, a partnership based on working together to strengthen stability, security and prosperity to the benefit of both our countries.
I would like to praise the growing number of Macedonians who are alumni of our Chevening programme or of the military programmes in the UK. Allow me to congratulate Macedonian army officer Panche Mehandziski for his remarkable achievement being the best overseas student on his intake at the RAF Academy this year. That is just one part of the growing bilateral defence relationship. There are now over 200 Chevening alumni who have completed post-graduate degrees in the UK and returned to Macedonia to work. They are present here in every corner from politics to business, to civil society, research and arts. It is great to see many of them here tonight.
The Queen's Birthday Party is celebrated in April, or in June in the UK and by diplomatic posts of the Foreign & Commonwealth Office throughout the world.
Published 14 June 2017