World news story
Queen Elizabeth Land Commemorative Coins released
Queen Elizabeth Land Commemorative Coins are now available to purchase.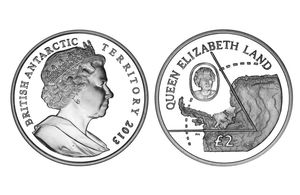 The Government of the British Antarctic Territory is delighted to announce the issuing of the "Queen Elizabeth Land" legal tender commemorative coin, following the naming of Queen Elizabeth Land in the British Antarctic Territory by the Foreign Secretary, The Rt. Hon. William Hague MP, during Her Majesty Queen Elizabeth II's visit to the Foreign & Commonwealth Office on 18 December 2012.
Produced by The Pobjoy Mint, the new coin depicts the British Antarctic Territory together with an outline showing where Queen Elizabeth Land lies. A cameo portrait of Her Majesty based on her visit to the Foreign and Commonwealth Office also appears on the coin, together with the wording 'Queen Elizabeth Land' and the denomination £2.
The coin is available for purchase in Proof Sterling Silver and Unc Cupro Nickle on The Pobjoy Mint's website. The coin is also available in both 1/64oz and 1/25oz Proof Fine 999.9 Gold upon individual request with Pobjoy.
To purchase this unique collectors coin, please click the following link
You can also buy this coin with the Queen Elizabeth Land Stamp
The Government of the British Antarctic Territory will be issuing further coins later in 2013
Published 25 April 2013