World news story
Queen Elizabeth II welcomes Belgian King & Queen to London
The Belgian Royal family was welcomed at Buckingham Palace by HM The Queen on a visit to the United Kingdom.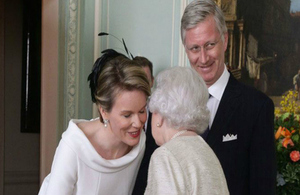 Belgian King Philippe, Queen Mathilde, and deputy prime minister and foreign minister Didier Reynders visited London on 13 March 2014.
During their visit, the King and Queen were welcomed by Her Majesty Queen Elizabeth II at Buckingham Palace. They visited the Houses of Parliament and Westminster Abbey with a wreath-laying ceremony at the Tomb of the Unknown Soldier.
The Prime Minister's special representative for the Centenary Commemoration of the First World War, Dr Andrew Murrison, briefed the Belgian Royals on the UK's preparations for the centenary. A meeting with Foreign Secretary William Hague took place at the Belgian Residence. Minister for Europe David Lidington and British Ambassador to Belgium Jonathan Brenton also held a meeting with the Belgian Foreign Minister.
Background
When He was Crown Prince, HM King Philippe and HM Queen Mathilde visited the UK for the London 2012 Olympics. HM King Albert II and Queen Paola were also received in London for lunch with monarchs for the Diamond Jubilee of HM Queen Elizabeth II in 2012. An offical Royal Belgian visit to London took place on 14-17 May 1963, by then HM King Baudouin and HM Queen Fabiola.
Her Majesty Queen Elizabeth II came to Belgium for an official Royal State Visit on 11-12 July 2007. Prior to that, HM The Queen came to Belgium on Armistice Day on 11 November 1998, as well as in 1993 for King Baudouin's funeral, and on an official Royal State Visit to Belgium in 1966.
Follow us on Twitter and Facebook for the latest news on Belgian-British relations.
Published 17 March 2014