World news story
Quality UK food and drinks showcased at British Embassy in Athens
Christmas High Tea at the British Embassy in Athens offered quintessentially British food and drink products to selected guests.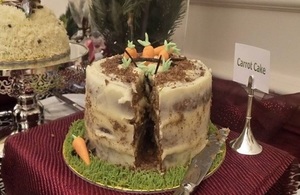 On 16 December 2015 in the run up to Christmas, the Deputy Head of Mission of the British Embassy in Athens, Andrew Staunton, hosted a High Tea at the British Residence. During the event, selected guests had the opportunity to sample high quality food and beverages from Britain, offered by the representatives of UK companies in Greece.
This networking event attracted an audience of influential figures in the Greek food and drink sector as well as guests from businesses operating in the hotel and tourism industries. It allowed UK Trade and Investment (UKTI) Greece to successfully promote traditional English teas and afternoon tea related products.
Food and drink opportunities in Greece
11.3% (£110.7 million) of UK exports to Greece in 2014 were in the food and drink sector. This trend continued in 2015 with £56.7 million of the total exports of £587 million related to food and drink. Food and drink products of interest include:
high quality speciality products, organic food and breakfast products have good potential
private label product ranges for major supermarkets are expanding
alcoholic beverages whiskys and gin have a stable market share
Afternoon tea menu
The menu included a selection of Clipper Teas and coffee, accompanied by a variety of homemade cakes and pastries prepared with Macphie products and savouries with Lye Cross cheeses and Scottish salmon. Marks & Spencer also provided a selection of traditional Christmas fare. Alongside the High Tea buffet guests enjoyed a glass of sparkling wine and Royal tea cocktails made with Bulldog Gin.
Background
The Afternoon Tea ritual was introduced by Queen Victoria and became a formal occasion, known as Tea receptions. These days, afternoon tea menus are served in luxury hotels in Britain, as well as Harrods and Fortnum & Mason. It is often referred to as High tea and is usually an event to celebrate a special occasion.
Contacts
If you are a UK Food & Drink sector company looking to expand your business in Greece please contact:
Caterina Drossopoulou
UKTI Greece
caterina.drossopoulou@fco.gov.uk
+30 210 7272 744

Published 21 December 2015