Press release
Public Exhibitions on replacement of Merafield Bridge A38
Drivers, business owners and local residents are invited to find out more about a £6 million scheme to replace the bridge which carries Merafield Road over the A38 at Plymouth.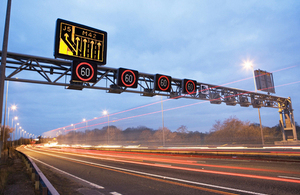 Two public exhibitions are being held at Plympton Library, Harewood on Monday 2 February between 4pm to 8pm and Plymstock Library, Horn Cross Road Tuesday 3 February between 4pm to 8pm.
Representatives from the Highways Agency and our design team will be available to discuss the proposals and answer any queries that people may have.
Service Delivery Manager, Mike Hillier, said, "We understand significant schemes such as this can raise concerns from road users and other stakeholders and that is why we are holding these public exhibitions to talk through our plans.
Throughout the planning process the Highways Agency has fully focused on the need to keep disruption to a minimum and complete the work as soon as possible while creating a safe environment for motorists and construction workers.
The existing bridge is suffering from alkali silica reaction, commonly known as concrete cancer. In time, the structure would eventually become unsafe, and therefore needs to be demolished and a replacement structure built.
Work to reinforce and stabilise the eastbound verge slope, safeguarding the A38 from potential landslips, and providing stable ground for the new bridge was completed last year.
Construction of the new bridge is planned to start in the Summer of 2015 and complete within a year.
General enquiries
Members of the public should contact the Highways Agency Information Line on 0300 123 5000.
Media enquiries
Journalists should contact the Highways Agency press office on 0844 693 1448 and use the menu to speak to the most appropriate press officer.
Published 30 January 2015