Press release
Public exhibition to showcase £220 million improvements to A38 junctions in Derby
People in Derby can learn more about planned £220 million improvements to junctions on the A38 at an exhibition this weekend.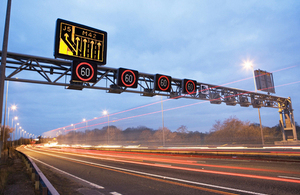 The Highways Agency has launched a public consultation to help shape its proposals for flyovers or underpasses at the Markeaton, Little Eaton and Kingsway junctions.
Local people can learn more about the plans and give their views at the exhibition, taking place on Friday and Saturday at the Enterprise Centre, Bridge Street, Derby.
Mark Hartharn, project manager for the Highways Agency, explained:
"We're hoping to meet lots of local people during the two-day exhibition - their views are very important to help us deliver the best improvements possible to the busy junctions along the A38 in Derby.
"We're looking forward to meeting everyone and discussing our proposals in more detail. But don't worry if you can't make the event – lots of information is available online, and you can still take part in the consultation via our website."
Derby is expected to see huge rises in housing, employment and traffic over the next few years – and improvements to the A38 are necessary to help the city cope with demand. The proposed schemes are designed to deliver long-term improvements to journeys along the A38.
The public consultation on the Highways Agency's proposals runs until March 13, 2015.
The exhibition will take place at the Enterprise Centre, Bridge Street, Derby (DE1 3LD) on February 6 from noon to 8pm, and on February 7 from 10am to 4pm.
After the event, members of the public will still be able to get an overview of the plans at the Council House, in Corporation Street, Derby, alongside full information on the Highways Agency website.
General enquiries
Members of the public should contact the Highways Agency Information Line on 0300 123 5000.
Media enquiries
Journalists should contact the Highways Agency press office on 0844 693 1448 and use the menu to speak to the most appropriate press officer.
Published 3 February 2015