Press release
Proposed changes to Tunstall road element of A1 Leeming to Barton scheme – draft orders published
Draft orders for a modified route for local traffic via Catterick Lane and Tunstall Road that would be put in place as part of the A1 Leeming to Barton improvement scheme are being published today (17 April).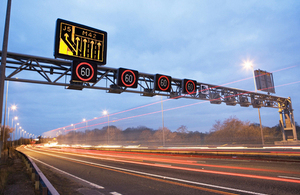 The Orders explain what side roads will need to close and indicate where any compulsory purchase orders may be put into operation. Copies of the orders will be held in North Yorkshire County Council offices for interested parties to view.
Highways Agency senior project manager Sandie Forte-Gill said:
The draft orders form part of the A1 Leeming to Barton upgrade scheme, which will deliver significant benefits to road users and businesses in both the local area and beyond.

The Highways Agency has always been committed to working with North Yorkshire County Council to develop a solution that addresses local concerns about traffic flows in Tunstall. The previously published orders caused some concern in local areas and as a result we have re-examined the route in considerable detail with our legal team and we are pleased to confirm we believe we have found a way forward that could allow a proposed 'dogleg' design to be introduced, without compromising the construction timetable for upgrading the A1 to motorway.

Residents and local businesses had a chance to view the proposed new plans at a recent public exhibition and now the draft orders, which would allow this new proposal to legally progress, are now being published.
Work to widen an 11 mile section of the A1 between Leeming and Scotch Corner, and to create an alternative route for local traffic, started earlier this month. The scheme will unlock growth and boost the economy by creating a continuous motorway-standard route between London and Newcastle (including the M1 and A1M). It will also improve journey times and increase safety.
When the scheme opens to traffic in 2016/2017, journey times between Leeming and Barton will be reduced by approximately 20 per cent, and over a 60 year period, the improvements are predicted to save around 20 lives and prevent around 450 serious accidents. The work is also estimated to generate 750 jobs in the construction industry over three years.
General enquiries
Members of the public should contact the Highways Agency Information Line on 0300 123 5000
Media enquiries
Journalists should contact the Highways Agency press office on 0844 693 1448 and use the menu to speak to the most appropriate press officer
Published 17 April 2014