World news story
Promoting English language teaching in the DPRK
A signing ceremony was held in Pyongyang on 25 June 2014, extending the English language teaching and teacher training programme in DPRK.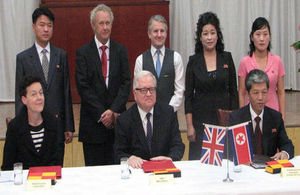 On 25 June 2014, at a short ceremony, British Council China Director Carma Elliot, DPRK Commission of Education International Cooperation Director Ri Yong and British Ambassador Mike Gifford signed a letter of understanding extending our English language teaching and teacher training programme for the three years 2014-2017.
The FCO and the British Council co-fund the programme which has been running since 2000 and which provides a resident team of four British Council teacher-trainers who will deliver training to English language teachers in North Korea. Under this latest extension the programme will be expanded to cover another two universities and two secondary schools, so that it will cover a total of seven universities and three schools. Some of the other expansion plans in the letter will depend on additional funding being found.
Published 2 July 2014