World news story
PROMOTE 2014 Registration still open
From:

Part of:

Published:

8 August 2014

Last updated:

3 November 2014, see all updates
This was published under the 2010 to 2015 Conservative and Liberal Democrat coalition government
The PROMOTE event can help UK businesses seeking new business opportunities in the Central African sub region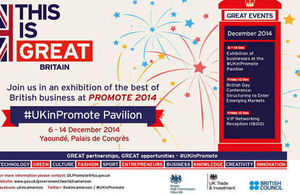 PROMOTE 2014 runs from 6 to 14 December 2014 at the Yaounde Conference Centre. The event which brought together close to 1300 exhibitors and 128,000 visitors in 2011, is expected to bring in a bigger business population from across Africa.
The British High Commission Yaounde will be taking part in the business fair. The UK's diplomatic mission in Cameroon has reserved a 100 meter square #UKinPROMOTE Pavilion to host UK companies that would like to attend the event.
The British High Commission Yaounde is encouraging UK businesses and investors from across the world to attend. It will provide a great business opportunity to develop partnerships in the growing markets within the Central African subregion.
The UK's mission has put in place a special service package for those UK businesses and investors who will be at the #UKinPROMOTE Pavilion.
This package includes:
special VIP visits
constant social media coverage
B2B exchanges and business dinners
Interested businesses and investors wishing to be part of the #UKinCameroon Pavilion should contact the British High Commission Yaounde on: 00 237 22 22 05 45.
Travel discount
Brussels Airlines, as the official travel partner of PROMOTE 2014, offers a 20% discount to all travellers coming from Europe or USA to Cameroon, on any SN operated flights. You can find out more from Brussels Airlines.
Document information
Published: 8 August 2014
Updated: 3 November 2014
Article updated
The picture and contact address have changed.
Brussels Airlines offers a 20% discount for all travelers visiting Cameroon during Promote 2014. A link has been added
First published.