News story
Project Academy for Sellafield - Prospectus for 2018/19
The new prospectus for the Project Academy for Sellafield has been launched.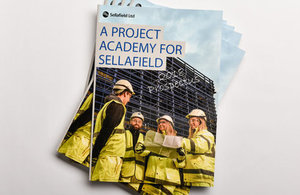 It outlines the range of opportunities available to anyone who would like to increase their knowledge and gain qualifications in project delivery.
Courses are available now and anyone can apply, not just those working in the nuclear industry or in the project profession.
The Project Academy for Sellafield
It offers training and qualifications at all levels – from one day introductory courses to degrees, masters and doctorates.
Take a look at the Project Academy for Sellafield Prospectus
The Project Academy was developed by Sellafield Ltd and is the first of its kind in the UK.
Launched two years year ago, It now has 1300 people on its books and is to helping to increase project capability across the country.
The academy is being delivered by the University of Cumbria, who secured the contract in 2016, along with six partners.
It is becoming the gold standard model for project education and is now being replicated by Rolls Royce, with companies such as British Airways, Lloyds Banking and the BBC enquiring about its use.
Wes Robinson, Project Delivery Directorate, Sellafield Ltd said;
We are privileged to have developed this completely fresh concept for project education with the University of Cumbria, creating the next generation of project professionals on our doorstep, ensuring Cumbria and the UK remains at the forefront of project education and skills.

Project delivery is a key part of our mission of making Sellafield safer, sooner, and to now have over 1300 individuals through the academy gaining world class qualifications within Cumbria and the Warrington area is very rewarding.

I would encourage anyone who would like to increase their project knowledge to take a look at the prospectus and consider the range of opportunities offered.
Simon Wittridge, Head of Project Transition at Sellafield ltd said:
What I find encouraging is the diversity of people choosing to study with the academy, we have a real mix of new starters who have no previous experience in the project world, to young professionals, senior managers, employees from the supply chain and members of the public self-funding their studies.
Published 23 August 2018