News story
Professor Colin Pillinger CBE FRS
Professor Colin Pillinger CBE FRS has passed away aged 70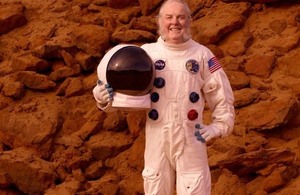 The UK Space Agency is saddened to learn of the death of Professor Colin Pillinger.
With over 4 decades of experience in space science and research, Colin was involved in a number of high profile space projects including the Apollo programme and Europe's Rosetta mission. He was lead scientist and consortium leader for the Beagle 2 Mars lander project and carried out numerous consultation activities with NASA and ESA.
Colin began his career with a PhD in chemistry from the University of Swansea. He then became a research fellow at Cambridge University and then at The Open University, before becoming professor in interplanetary science at The Open University - a post he has held since 1991. He was awarded a CBE in 2003 and was also well known for his excellent work in science communication.
Dr David Parker, Chief Executive of the UK Space Agency, said:
The UK has lost a true visionary with the death of Professor Pillinger; he was a prominent and influential figure in the UK space sector and will be greatly missed. My thoughts go out to his family and friends at this difficult time.
Published 8 May 2014