World news story
Prince Harry visited the port of Valparaíso
This was published under the 2010 to 2015 Conservative and Liberal Democrat coalition government
Prince Harry visited one of the areas badly affected by the recent fire and met with local authorities and members of the British community.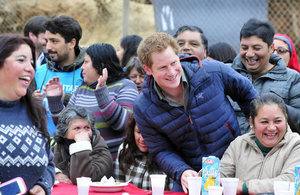 On the second day of his official trip to Chile, Prince Harry travelled to the port of Valparaíso where he visited one of the communities badly affected by the recent fire – the worst in the history of Chile. In Cerro La Cruz, and in the company of volunteers from 'Techo' non-profit organisation, His Royal Highness visited some of the temporary homes in which people are trying to rebuild their lives. Here, Prince Harry enjoyed a breakfast with community members, who were delighted to have him as a guest.
Later in the morning, Prince Harry visited the fire fighters of the 11th Fire Company George Garland. Like all firemen in Chile, these are volunteers, including their driver, who had lost his home during the recent fire. The 11th Fire Company was formed by the British community in Valparaiso and has a long tradition of British links and values, with the Union Jack proudly displayed on the fire engines and uniforms. The company put on an impressive fire fighting display, during which fire hoses unfurled the British and Chilean flags. After the welcome ceremony, Prince Harry met with local authorities and members of the British community in Valparaíso and British schools.
In the afternoon, Prince Harry met in Santiago with staff from the British Embassy, the British Council and the British-Chilean Chamber of Commerce.
Further information
'Techo' is a youth led non-profit organisation present in Latin America and the Caribbean, founded by Chilean university students. 'Techo' has recently opened an office in the UK.
For more information about the activities of the British Embassy in Santiago, follow us on: