World news story
Prince Harry spent last day of his visit with disabled children
This was published under the 2010 to 2015 Conservative and Liberal Democrat coalition government
His Royal Highness also joined a group of children undertaking beginner exercises on off-road trial motorbikes in the Andes mountains.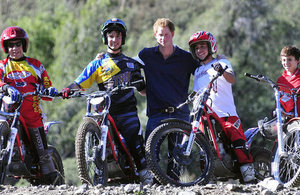 On the final day of his official trip to Chile, Prince Harry visited the 'Amigos de Jesus' Foundation in Santiago. 'Amigos de Jesús' is a small charity caring for severely mentally and physically disabled children and young adults. The Foundation was started in 2005 by Gladys 'Popa' Ramírez to provide day-care support for disabled children from local families so their parents could remain in work. The Foundation teaches culinary skills to those children who are able to work and currently runs a small bakery, producing bread and pastries that are sold in the local market.
Accompanied by a small group of volunteers, Prince Harry visited three areas of the day-care centre: the dormitory, where staff care for bedridden children; the bakery, where older children were baking muffins and bread, and the garden, with older children dancing to the tune of 'Firework' by Katy Perry. The British Embassy in Santiago has strong ties with the Foundation; some members of the Embassy families volunteer here, and Embassy staff recently planted the garden and painted murals inside the Centre.
After 'Amigos de Jesús', His Royal Highness visited the Antawara outdoor activity centre in the foothills of the Andes, where he joined a group of children undertaking beginner exercises on off-road Trial motorbikes.
During the event, Prince Harry talked animatedly with the young riders and their parents as he watched them demonstrate their skills, and enjoyed a casual outdoor lunch with Her Majesty's Ambassador Fiona Clouder and the biking instructors before the youngsters moved to a more complex 'zone' where instructors Jaime Lama, Jordi Muñoz, Alvaro Rojas and Andrés Sandrock put them through their paces in a workshop designed to improve their technique.
Chile is famed for its wide range of year-round outdoor activities, and this event offered Prince Harry an opportunity to experience some of the stunning landscape around Santiago on a sunny midwinter's day before heading back to the UK.
Futher information
For more information about the activities of the British Embassy in Santiago, follow us on: