News story
Prime Minister's Questions: 10 November 2010
The Deputy Prime Minister answered questions from MPs in the weekly PMQs session as the Prime Minister is in China.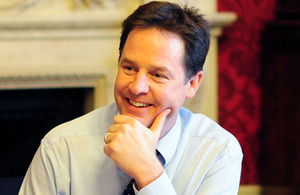 Tuition fees, Burma elections and renewable energy were on the agenda at today's Prime Minister's Questions.
The Deputy Prime Minister also took questions on small businesses, contaminated blood and Sure Start centres.
Follow the links below to read the PMQs transcript or to watch the broadcast again.
Question-by-question guide
The Deputy Prime Minister answered questions on:
Contaminated blood
Tuition fees
Burma elections
Port of Dover
Sheffield ford masters
Police Officers
Renewable energy
HMRC support and care service
Sure Start
Small businesses
Polling stations
Affordable housing
Afghanistan
Prisoner voting rights
Equitable life policy holders
Pupil premium
Private landlords
Extra information
Prime Minister's Questions is an opportunity for MPs from all parties to question the Prime Minister on any subject, although they usually focus on the key issues of the day.
The half-hour session, which takes place on Wednesdays while Parliament is in session, starts with a routine question from an MP about the Prime Minister's engagements.
Published 10 November 2010