Prime Minister and Deputy Prime Minister press conference: December 2010
The Prime Minister and Deputy Prime Minister have held a joint press conference in Number 10 ahead of the Christmas recess.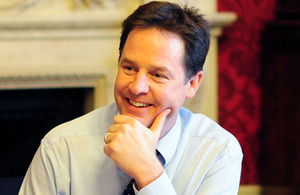 Mr Cameron and Mr Clegg began by thanking troops serving in Afghanistan for everything they are doing and sending them and their families Christmas wishes.
Discussing the economy, they said the Coalition Government was on the right track and that next year would be "rigorously focused on growth and job creation".
Mr Clegg said the Coalition had achieved a great deal this year tackling the deficit. He said he believed "we'll fix the economy and build a better future".
He said:
The Coalition Government has achieved a huge amount in a short space of time. Clearly our greatest challenge is tackling the deficit and returning our economy to health, and we are taking the difficult steps needed to do that.
The Deputy PM also said they had made a good start on their far-reaching programme to rebuild British society so that it is "open, liberal, socially mobile".
…from schools, to hospitals, to planning - we're taking power away from Whitehall and handing it back to individuals, back to families, back to neighbourhoods.
Mr Clegg ended by saying the Coalition had made "a good start to an ambitious project"
We have a clear view of the stable, fair Britain we want to build. That's our plan. And we will stick to it.
Speeches and transcripts: Deputy PM's opening statement
Published 21 December 2010