Pride of Britain winners celebrate at Downing Street with Deputy Prime Minister
The Deputy Prime Minister has hosted a celebratory event for Pride of Britain Award winners.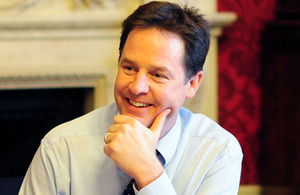 Among the winners were Child of Courage award winner Tom Phillips -an eleven year old who saved his father's life after he was attacked by a bull, and McAyla Johnston who has campaigned for better road safety precautions after being in a car accident.
Among the adult award winners was Tariq Jahan, who won a special recognition award for his plea for peace following the death of his son Haroon and two other men in the recent riots.
Mr Clegg said:
All of you are incredible and I'm really pleased that you have been paid special tribute to for what you've done.
The Deputy Prime Minister also met Lifetime Achievement winner Bob Woodward, who founded a charity - Clic now CLIC Sargent after the death of his son in 1974. The cancer charity has since raised over £100 million.
The Pride of Briain Awards 2011 television programme will be broadcast this evening (October 5th) on ITV1 at 8pm.
Published 5 October 2011