Press release
Preston man gets hefty fine for fishing without a licence
The Environment Agency is reminding anglers of the importance of having a rod licence, after an angler was found guilty of fishing without one.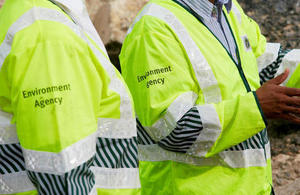 Stephen Mathieson of Trawden Crescent, Ribbleton was fined £419 after being found in breach of the Salmon and Freshwater Fisheries Act (1975) in September 2015. On 6 September 2015, Mathieson was found to be fishing at Whitmore Fishery, Kirkham without a rod licence. Mathieson also failed to state his name and address to a bailiff when asked.
The case heard at Blackpool Magistrates' Court was brought by the Environment Agency following the discovery of the offenders in September 2015.
Following the verdict, an Environment Agency spokesman said
We are pleased with the outcome and hope that it will provide as a deterrent for any angler thinking of fishing without a licence. All the money raised from rod licence sales is used to protect and improve fish stocks and fisheries, benefitting anglers and those cheating the system will be prosecuted.
Every year across the country, thousands of anglers are prosecuted for not having a fishing licence. As well as swindling other anglers, fishing illegally can carry a hefty penalty. Getting caught without a licence could land you with a fine of up to £2,500.
Any angler aged 12 or over, fishing on a river, canal or still water needs a licence. An annual licence costs from just £27 (concessions available). You can buy your rod licence online from the Post Office here, at your local Post Office or by phoning 0344 800 5386.
Anyone with information about illegal fishing activities can contact the Environment Agency incident hotline on 0800 80 70 61 or anonymously to Crimestoppers on 0800 555 111.
Published 13 April 2016