World news story
Presidential Reception for Diplomatic Corps in Macedonia
Ambassador Yvon thanks families of diplomats for their support to public service, at the annual reception hosted by President of Macedonia.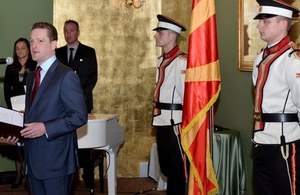 At the invitation of the President of the Republic of Macedonia, Dr. Gjorgje Ivanov, and his wife Mrs Maja Ivanova, the diplomatic community in Macedonia attended a traditional annual event to mark the Christmas and New Year period in Macedonia. A reception on 18 January hosted by the President and Mrs Ivanova was followed by visits the following day to local historical sites in Gevgelija in South Eastern Macedonia and a ceremony on the coast of Lake Dojran.
In his role as Dean of the Diplomatic Corps in the Republic of Macedonia, Ambassador Christopher Yvon spoke on behalf of the diplomatic community. He said:
I would like this year to pay particular and special tribute to the contribution made by our families. Your own family, Mr President, but also the families of the diplomatic and military community. They give so much of their time generously and personally, in pursuit of public and state service. They make personal contributions through humanitarian work and voluntary service, selflessly providing and selflessly making sacrifices. And, crucially, they give support to their loved ones, loyally and with true dedicated commitment. With our families and their willing, loving support we are even more able and capable of carrying out our public service and representing our nations faithfully. So I pay them tribute in special appreciation.
The programme included a presentation of the economic opportunities for investment in the southern part of Macedonia and the potential for tourism, as well as an introduction to some of the traditions connected to Epiphany which is observed in Macedonia on 19 January by the Orthodox community.
Published 19 January 2014