World news story
Pope Benedict sends message of support to London Olympic Games
His Holiness Pope Benedict XVI reflects on promoting peace and reconciliation through the Olympic Games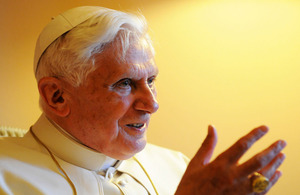 On Sunday 22 July 2012, following the weekly Angelus prayers, His Holiness Pope Benedict XVI reflected ahead of the opening ceremony of the Olympic Games in London on the goodwill that such an international sporting event can generate to promote peace and reconciliation throughout the world.
Pope Benedict said:
"In a few days from now, the Olympic Games are due to begin in Great Britain. I send greetings to the organizers, athletes and spectators alike, and I pray that, in the spirit of the Olympic Truce, the good will generated by this international sporting event may bear fruit, promoting peace and reconciliation throughout the world. Upon all those attending the London Olympic Games, I invoke the abundant blessings of Almighty God."
The Pope also added in Italian: "the Olympics are the greatest sporting event in the world, at which athletes from a great many nations will participate, and as such they have a strong symbolic value. For this reason the Catholic Church watches them with particular warmth and attention. We pray that, by the will of God, the London Games will be a true experience of fraternity between the peoples of the earth."
On 20 July 2012, one week before the opening of the London 2012 Olympic and Paralympic Games, Foreign Office Minister Henry Bellingham marked the day the period of the Olympic Truce traditionally begins, highlighting the UK's commitment to the Olympic Truce's ideals of conflict prevention and peace.
In October 2011, The Rt Hon Lord Bates was commended by Pope Benedict XVI on his marathon walk to promote The United Nations General Assembly Resolution for an "Olympic Truce". The Resolution was put forward by the United Kingdom and, for the first time, was co-sponsored by all 193 UN Members States.
Published 23 July 2012