World news story
PM Salam Receives Invitation to Syria Donors Conference in London
Prime Minister Tammam Salam received an official invitation to the upcoming Syria Donors Conference taking place in London on 4 February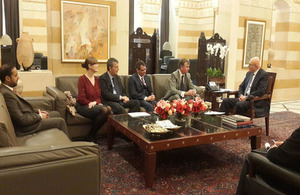 A delegation from co-host countries Germany, Kuwait, Norway, the UK, and the UN represented by British Ambassador Hugo Shorter, German Ambassador Martin Huth, Norwegian Deputy Ambassador Ane Jorem, Kuwaiti Consul Ahmed El Sabti and UN Deputy Special Coordinator for Lebanon Philippe Lazzarini, handed the letter to the Prime Minister.
Following the meeting Ambassador Shorter delivered a statement on behalf of the delegation:
We met this morning with Prime Minister Salam to extend an invitation to the upcoming Syria Donors Conference that the UK is co-hosting on 4 February 2016. The United Kingdom, Kuwait, Germany, Norway and the UN are gravely concerned about the plight of the Syrian people and the impact of the protracted crisis on regional host communities. We will accelerate our efforts – directly and with the international community - to support Lebanon, whose government and people have shown such generosity in hosting huge numbers of refugees. It is important that the international community matches this generosity.

As we have said before, a political solution to the Syria crisis is desperately needed, so that the conditions can be created for the safe return of refugees to their country. But as the international community works towards that, we must do more to protect and provide for the millions of vulnerable Syrians inside Syria and across the region. With this conference, we want to identify longer term approaches and funding, which will help to create education and opportunities for the millions affected across the region – for both refugees and citizens of host countries.
Notes to Editors
The Syria Donors Conference in London will also pave the way for a broader discussion about how the international community responds to protracted crises, in advance of the UK, UN and World Bank High-Level Forum on Forced Displacement in Protracted Crises later in 2016 and the World Humanitarian Summit in Istanbul in May.
Document information
Published: 18 December 2015