World news story
Plans for India network of British business centres unveiled
Plans to develop British business networks in high growth and emerging markets took a further step forward today.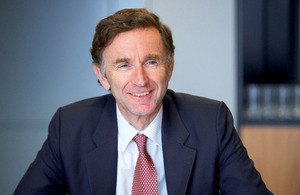 UK Trade and Investment minister Lord Green convened a conference of representatives of 20 overseas business networks, UK business organisations and Local Enterprise Partnerships, the first of its kind.
UK Trade & Investment (UKTI) is working with them to build stronger business-to-business support services in twenty priority markets.
The first £1.1 million business-led, pan-India network was announced today, led by the UK-India Business Council, with support from India-based British business groups.
By the end of March the government plans to have agreed partnerships with business groups in a quarter of the 20 markets, half by the end of April and the rest by the end of June.
Lord Green said:
Britain needs more businesses to get exporting to the fast growing nations of the world – it's a vital part of our plan for growth. But we need to make taking the first step into an offshore market much less challenging for small and medium-sized exporters.
British overseas business networks have traditionally not supported exporters to anywhere near the extent that our European and other major competitors have and we must close this gap. We need a vibrant network of British business groups supporting UK SMEs abroad, particularly in our priority markets.
The range of support offered by these networks will vary according business need and could include for instance mentoring, office space, familiarisation visits and market introductions.
Notes to editor
In 2011 Prime Minister David Cameron outlined the National Challenge of 100,000 more companies exporting by 2020, and in 2012 the Chancellor announced a target to double exports to £1 trillion by 2020.
The Prime Minister then launched a £8m fund to strengthen business networks in 20 pilot markets. Twenty markets have been identified to pilot enhanced overseas business networks: Brazil, Russia, India, Hong Kong, South Africa, Indonesia, Mexico, Turkey, Poland, UAE, Nigeria, Colombia, Singapore, Malaysia, Thailand, Vietnam, South Korea, Romania, Saudi Arabia and Qatar.
By 2017, the support available to UK SMEs from government and business groups will have significantly increased in quantity and quality in at least twenty markets. Business support for British SMEs overseas will, at a minimum, be on a par with the services on offer by our competitors.
The government's economic policy objective is to achieve 'strong, sustainable and balanced growth that is more evenly shared across the country and between industries.' It set four ambitions in the 'Plan for Growth' (PDF 1.7MB), published at Budget 2011:
to create the most competitive tax system in the G20
to make the UK the best place in Europe to start, finance and grow a business
to encourage investment and exports as a route to a more balanced economy
to create a more educated workforce that is the most flexible in Europe.
Work is underway across government to achieve these ambitions, including progress on more than 250 measures as part of the Growth Review. Developing an Industrial Strategy gives new impetus to this work by providing businesses, investors and the public with more clarity about the long-term direction in which the government wants the economy to travel.
UK Trade & Investment (UKTI) is the government department that helps UK-based companies succeed in the global economy. We also help overseas companies bring their high quality investment to the UK's economy – acknowledged as Europe's best place from which to succeed in global business. UKTI offers expertise and contacts through its extensive network of specialists in the UK, and in British embassies and other diplomatic offices around the world. We provide companies with the tools they require to be competitive on the world stage.
For press enquiries please call +44 (0)20 7215 1635, (Out of hours) +44 (0)20 7215 3234/3505
Follow @UK in India on Twitter
Published 15 March 2013