Pickles announces multi-million pound support package for local firms and families to rebuild their communities
Residents and local firms affected by the riots are in line for financial support from central government, Communities Secretary Eric Pickles…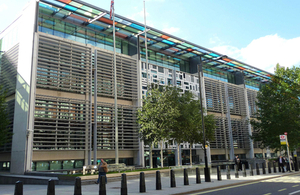 Residents and local firms affected by the riots are in line for financial support from central government, Communities Secretary Eric Pickles announced today as he outlined a package of measures that will help communities to get back on their feet.
The one-off measures are part of concerted, cross-Government action to help rebuild communities, open up shops and rebuild buildings which were damaged, make sure people who lost their homes are re-housed, and to help councils get their areas back to normal as quickly as possible.
Mr Pickles also sent a clear message that the Government stands fully behind councils seeking to evict tenants that are found to have taken part in the looting and rioting across the country over the last few days - this will send a strong message that crime does not pay.
The package of support being announced today includes:
A £10m recovery fund to help councils with the immediate costs of making their areas safe, clear and clean again. This fund can be used, for example, to clear debris left strewn in streets and make immediate repairs to pavements and roads. This Recovery scheme can also be used to support councils who use their powers to offer council tax discounts or council tax relief to those whose homes have been damaged but are still habitable.
A £20m High Street Support Scheme - funded jointly by the Departments for Communities and Local Government, and Business Innovation and Skills, which will be made available immediately, for the streets and areas where businesses were affected by the rioting. The money is intended to finance those measures that will get business trading again and meet short term costs. Councils will distribute the money and could use it to reduce business rates, finance building repairs and encourage customers back to the affected areas.
In addition, seriously damaged homes and business properties will be taken off the respective valuation lists, and Mr Pickles has strongly encouraged the Valuation Office Agency and local authorities to do so as promptly as possible. This removes any liability for council tax or business rates.
Councils have the power to offer rate relief for local firms, but must pay a quarter of the cost; central government automatically pays for three quarters of the cost. The High Street Support Scheme will help reimburse councils for this cost, to facilitate immediate and real financial help to be given to small and medium firms to rebuild their local businesses. Business rates are typically the third biggest outgoing for firms after rent and staff.
Re-housing funding to meet the immediate costs of emergency accommodation for families who have been made homeless by the disturbances. As these are exceptional circumstances, Mr Pickles has confirmed that his Department would meet these costs under established homelessness funding processes.
Mr Pickles said:
Our priority is to get local communities back on their feet, get businesses up and running again and make sure nobody is left without a roof over their head. We will stand side by side with communities as they rebuild their lives.

We are making immediate financial support available to those that need help and we will continue to work closely with councils who have already responded to this violence with calm, resolve and professionalism.

It is not just for the state to support local firms affected by these criminal actions. I encourage every local resident to make an effort to shop locally in this and coming weeks and support the local high streets which are the lifeblood of our communities.
In a written statement to Parliament, Mr Pickles also praised the efforts of Fire and Rescue Services who had been working hard to contain fires caused by those intent on destruction. Fire-fighters braved threats, and in some cases injury, in order to safeguard people and property across the country.
The Government has been absolutely clear that those who have committed criminal acts will be found and punished. Mr Pickles reinforced this stance today by announcing that councils will have the Government's full backing in holding any rioters living in social housing to account.
The Communities Secretary pledged the Government will support councils seeking to evict tenants involved in unrest, both in their communities and further afield, and will be urgently looking at all options to strengthen the powers councils have to take action in response to the behaviour of their tenants.
Housing Minister Grant Shapps said:
The people who rioted and looted over the past few days need to know that there are consequences to their actions. So they should wake up and listen to this clear message: if you live in a social home and you are caught rioting, your one night of madness could have disastrous consequences for the rest of your lives.

Social housing is a precious resource, and the hard working taxpayers who subsidise it will be rightly wondering why anyone involved in trashing and looting our country should expect to enjoy the benefits of a social home.

Councils and housing associations already have powers to evict social tenants, if they are involved in anti-social behaviour or criminal activity. I urge them to consider using those powers. I am proposing to strengthen the powers so that tenants can be evicted for serious anti-social behaviour or criminal activity beyond their local neighbourhood. We've also recently announced that landlords, for the first time, will be able to use a fast-track eviction process where there's a previous conviction for a serious offence. So rioters beware - our country will be restored, but the stain on your record will remain, and could count against you in years to come.
Notes to editors
The DCLG written ministerial statement is available at: www.communities.gov.uk/statements/newsroom/publicdisorder.

Full details of the schemes will be announced within the next week. Councils should be able to make claims quickly, within the coming weeks, and will receive funding through a direct grant.

It is already a ground for eviction in existing legislation if a social tenant or a member of their family is involved in anti-social behaviour or criminal activity in their local neighbourhood. The Department is currently consulting on proposals to strengthen those powers so that landlords will be able to move decisively and quickly to evict anti-social tenants in cases of serious and persistent anti-social behaviour. We now propose to make the necessary changes to legislation so that landlords will have the power to evict tenants who engage in serious anti-social behaviour or criminal activity such as rioting beyond the local neighbourhood. We intend to consult on this proposal immediately as part of the ongoing consultation on anti-social behaviour.
Twitter
Keep up to date with the Department by following us on Twitter (external link).
Media enquiries
Visit our newsroom contacts page for media enquiry contact details.
Published 11 August 2011