Pickles and Hammond to end the war on motorists
Parking space limits for new homes and higher parking charges guidance scrapped Limits on car spaces for new homes and guidance encouraging…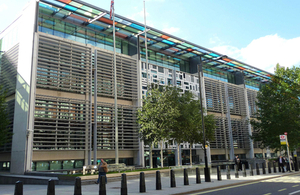 Parking space limits for new homes and higher parking charges guidance scrapped
Limits on car spaces for new homes and guidance encouraging higher parking charges are being abolished ending the war on motorists, Local Government Secretary Eric Pickles and Transport Secretary Philip Hammond announced today.
Ministers are today removing national planning restrictions put in place in 2001 that required councils to limit the number of parking spaces allowed in new residential developments and set high parking charges to encourage the use of alternative modes of transport.
The Government believes these rules unfairly penalised drivers, led to over-zealous parking enforcement, and increased unsightly on-street parking congestion - putting the safety of drivers, cyclists and pedestrians at risk.
From now on, councils and communities will be free to set parking policies that are right for their areas. This could include taking into account the effect of parking charges on the vitality of their local economy and local shops. Councils wanting to attract shoppers through setting competitive local parking charges in town centres will now be able to do so without interference from Whitehall.
The Government has also announced it wants councils to promote electric vehicle charging points in new developments to encourage more green drivers, without making developments unaffordable. As part of this Ministers have announced their intention to allow charging points to be built on streets and in outdoor car parks without the need for planning permission.
Communities and Local Government Secretary Eric Pickles said:
Whitehall's addiction to micromanagement has created a parking nightmare with stressed-out drivers running a gauntlet of unfair fines, soaring charges and a total lack of residential parking. The result is our pavements and verges crammed with cars on kerbs endangering drivers, cyclists and pedestrians, increased public resentment of over- zealous parking wardens and escalating charges and fines.

Today the Government is calling off Whitehall's war on the motorist by scrapping the national policy restricting residential parking spaces and instructing councils to push up charges. We expect councils to follow suit. From now on communities have the freedom to set competitive local charges that bring shoppers to the high street, proportionate enforcement and the right number of spaces for new development. We're getting out of the way and it's up to councils to set the right parking policy for their area.
Transport Secretary Philip Hammond said:
This is a key step in ending the war on the motorist. For years politicians peddled the pessimistic, outdated attitude that they could only cut carbon emissions by forcing people out of their cars.

But this Government recognises that cars are a lifeline for many people - and that by supporting the next generation of electric and ultra-low emission vehicles, it can enable sustainable green motoring to be a long-term part of Britain's future transport planning.
Parking problems on new developments can cause knock-on effects to surrounding neighbourhoods. Spill-over creates street congestion that can cause blind spots for pedestrians, hinder emergency vehicles and lead to fly parking.
Decentralisation Minister Greg Clark added:
Limiting the number of drives and garages in new homes doesn't make cars disappear - it just clogs residential roads with parked cars and makes drivers cruise the streets hunting for a precious parking space. That's why I'm pleased today to get rid of another daft, interfering rule that has only succeeded in annoying people.
Notes to Editors
Planning Policy Guidance 13: Transport (PPG13), in conjunction with Planning Policy Statement 3: Housing (PPS3), sets out the need for Local Councils to use maximum parking standards for residential development. By ending this requirement Councils will have the freedom to decide how many parking spaces they want to see in new development in their area. The new rules will ensure local authorities can choose what sort of new housing developments they want in their communities, rather than having homes where the choice on parking provision has been restricted by central government.
Ministers also believe that Government should not tell local authorities how they should set parking charges. The policy to set parking charges to encourage the use of alternative forms of transport was also contained in PPG13, and has now been deleted. Local authorities will have the freedom to set parking charges to take account of the needs of their communities.
The Department for Transport's Operational Guidance on Parking Policy and Enforcement maintains that charges should not be used to raise revenue or as a local tax and an authority is likely to be acting unlawfully if it were to do so.
Twitter
Keep up to date with the Department by following us on Twitter (external link).
Media enquiries
Visit our newsroom contacts page for media enquiry contact details.
Published 3 January 2011