World news story
Philippines joins the UK and other countries to tackle food security through the Newton Fund Sustainable Rice Programme
13 projects funded through Newton Programme presented at a conference in the International Rice Research Institute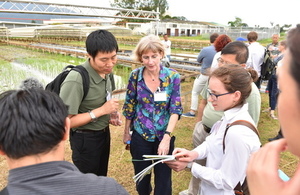 Rice researchers, scientists and funding partners from the Philippines and United Kingdom, along with those from China, Thailand, and Vietnam converged January 9 to 11, 2017 at the International Rice Research Institute (IRRI), Los Baños to collaborate and share issues in sustainable rice production.
13 projects funded through the Newton Fund UK – Philippines - China – Thailand - Vietnam Sustainable Rice Programme presented the current outputs of their research which address real world problems as varied as lowering the risk of diabetes and cardiovascular diseases for rice consumers, to increasing rice plant drought tolerance. The 3-year research projects began in 2016 and will continue until 2019. The Newton Fund Sustainable Rice Programme showcases an innovative mix of regional and country approaches that aim to help solve core challenges in global food security.
About 60 researchers, joined by representatives from the UK's Biotechnology and Biological Sciences Research Council (BBSRC) and each of the country's funding partners came together to explore ways to collaborate further, including sharing resources, lessons learned and data that can add value to their current projects and strengthen links with their counterparts from participating countries.
Deputy Ambassador to the Philippines Nigel Boud welcomed the delegates saying, "This is the first regional research programme that we are running under the Newton Fund and it brings together countries to collaborate on work that is so important like the sustainable production of rice. It demonstrates the kind of work that we want to be doing in the Newton Programme in the years ahead". Together with Dr. Bruce Tolentino, the Deputy Director – General of IRRI, they have stressed the significance of rice research to the country and the region, noting the importance of rice and the regional collaboration being achieved through the projects.
Of the 13 projects, 4 involve scientists from the Department of Agriculture Philippine Rice Research Institute (PhilRice). Two projects are working on improving the nutritional quality of rice and the other two focus on creating greater resilience of the rice plant to diseases and environmental stresses due to climate change.
One PhilRice researcher involved in the projects, Dr. Riza G. Abilgos-Ramos, said, "Our work will help to provide part of the solution in preventing type 2 diabetes and other chronic illnesses such as cardiovascular diseases by increasing dietary fiber and enhancing rice grain properties that would help to manage or prevent spikes in blood sugar increase after meals. The Newton Fund gives us the chance to do this with experts from different countries and allow us to expand our network in the UK and South East Asia." Ramos is a Supervising Science Research Specialist in the Rice Chemistry and Food Science Division of PhilRice. The event was highlighted by a tour of the IRRI research facilities, group presentations, poster sharing sessions and clinic sessions. Representatives from partners Department of Agriculture Philippine Rice Research Institute (PhilRice), Department of Science and Technology Philippine Council for Agriculture Aquatic and Natural Resources Research & Development (DOST-PCAARD), Chinese Academy of Agricultural Sciences (CAAS), Chinese Academy of Science (CAS), and Thailand National Science and Technology Development Agency (NSTDA), were also in attendance.
Document information
Published: 17 January 2017