News story
PHE's Chief Knowledge Officer to be interim Chair of NIB
Professor John Newton will take over in January from Tim Kelsey as interim Chair of the National Information Board.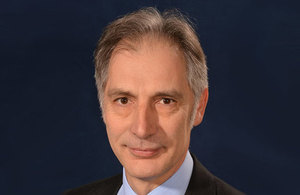 Professor Newton is Chief Knowledge Officer at Public Health England and Honorary Professor of Public Health and Epidemiology at the University of Manchester. He has been Deputy Chair of the Board since it was established in 2013.
Ian Trenholm, Chief Executive of the NHS Blood and Transplant, will be interim Deputy chair of the Board. A new permanent chair will be appointed later in the year.
Dame Una O'Brien, Permanent Secretary of the Department of Health, said:
I am delighted that Professor Newton is able to take over the leadership of NIB at this crucial time. The Department of Health recognises the importance of investing in digital technology for health and care and with NHS England has allocated substantial funds to support the NIB work programme.

A truly digital health and care system has the potential to transform the experience of patients and staff, improve outcomes and save on wasted resources. The NIB has already played an important role in leading this work and it will be vital to ensuring that new technology meet the needs of patients and staff.
The National Information Board was set up to oversee transformation of health and social care in England through the adoption of new digital technology. It is one of the 8 boards responsible for implementing the NHS strategic plan for England known as the 'Five Year Forward View'.
A wide range of health and care bodies, together with leaders in clinical medicine, the third sector and civil society, are represented on the Board ensuring that both new and existing initiatives have the greatest possible benefit for patients and the public.
In 2014, the Board published its strategy, Personalised Health and Care 2020, and an interim report on its work programme was released last September. Around 25 new technology programmes are currently underway to deliver the overall strategy.
Published 22 January 2016