Peter Housden appointed Scotland's top Civil Servant
The Permanent Secretary for Communities and Local Government, Peter Housden, will move in June to become Permanent Secretary to the Scottish…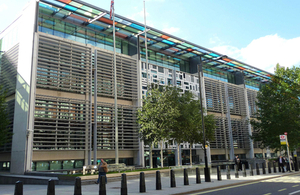 The Permanent Secretary for Communities and Local Government, Peter Housden, will move in June to become Permanent Secretary to the Scottish Government.
Peter Housden has been in his current post since October 2005. His appointment to Scotland has been made by the Cabinet Secretary, Sir Gus O'Donnell, with the agreement of the First Minister, Alex Salmond MSP, and the First Civil Service Commissioner. Peter Housden will succeed Sir John Elvidge, who is retiring next month.
As chief official policy adviser, the Permanent Secretary in Scotland works closely with the First Minister across the full range of responsibilities, including major strategic and policy issues, and the deployment of resources.
Commenting on his new appointment, Peter Housden said:
I am genuinely excited by the challenge. Scotland has its own Government, a great sense of pride and ambition and a Civil Service of passion, achievement and integrity.

To be leaving Communities in these circumstances is a huge honour, but also a great wrench. I have tremendous regard for my colleagues in the Department, and for our all partners and friends in public services and in civic society. In the four and a half years we have worked together, we have served communities to the very best of our ability.
The Cabinet Secretary, Sir Gus O'Donnell, said:
I am delighted that Peter has agreed to take on this very important role. He will bring a breadth of experience and expertise at the most senior level that will prove invaluable in the years ahead.

During his time as Permanent Secretary at CLG, he has served a number of Secretaries of State with great loyalty and distinction. He has ensured the successful delivery of a wide range of government policies in such key areas as affordable housing, preventing repossessions and local government reform while enhancing the Department's standing in Whitehall and among its delivery partners.
Secretary of State for Communities and Local Government, Rt Hon Eric Pickles MP, said:
I am obviously sad to lose someone of such courageous leadership, who puts the interests of the Department, and of the communities it serves, first. Peter faces an exciting challenge in Scotland, and I wish him well.
Peter Housden will take up post in Scotland on 22nd June. Irene Lucas, currently a Director-General at CLG, will be appointed as Acting Permanent Secretary pending an open competition for the post.
Notes for Editors
1. Biography of Peter Housden
Peter Housden was appointed as Permanent Secretary for the Office of the Deputy Minister in October 2005. It became the Department for Communities and Local Government in June 2006.
Peter was educated at a comprehensive school and the University of Essex, and began his career as a school teacher in Shropshire. He was Chief Executive of Nottinghamshire County Council from 1994-2001, and was seconded to the Audit Commission for six months in 2000 to lead its work on the NHS National Plan before joining the Civil Service as Director-General for Schools at the Department for Education & Skills in 2001.
Peter is a Trustee of the Work Foundation; an Associate Fellow of Warwick University Business School; and a Member of the Court of the University of Greenwich.
Twitter
Keep up to date with the Department by following us on Twitter (external link).
Media enquiries
Visit our newsroom contacts page for media enquiry contact details.
Published 21 May 2010