Press release
Parkham Farms cheese factory in Devon fined for pollution
A dairy farm owner and manager from Devon and their company have been ordered to pay £30,680 in fines and costs for polluting a stream , illegally damming another stream and breaching an environmental permit.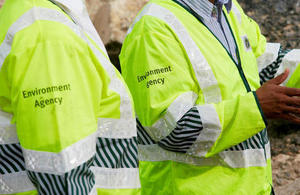 The case was brought by the Environment Agency.
Peter Willes and Richard Marsden, who run P.W. and R.M. farming partnership and Parkham Farms Limited, pleaded guilty to 3 offences and Marsden asked for another offence of slurry pollution that occurred in March this year at Beckland Farm to be taken into consideration.
On 8 January 2014 at Higher Alminstone Farm in Woolsery near Bideford, P.W. and R.M. farming, consisting of Willes and Marsden, spread slurry on a field next to the A39 between Downham Cross and Hobby Lodge. The field is owned by the Clovelly Estate but rented to the farm partnership.
It rained heavily and flushed the slurry into the nearby watercourse. The pollution was reported to the Environment Agency who took a sample which confirmed that the slurry had heavily polluted the small stream.
The purpose of spreading slurry or slurry contaminated rainwater is to act as a fertiliser. But the court heard that it should not be spread when the ground is waterlogged or when heavy rain is forecast, which may wash it off the field. Farmers are required by law to provide a minimum of 4 months storage capacity to store slurry but the farm's slurry stores were full. But instead of tankering the slurry away the farm partnership decided to spread it to land.
Agency officers witnessed the second offence on 22 April 2014, when they found a dam had been constructed in a stream at Beckland Farm near Hartland and that water was being pumped from the stream to a newly constructed reservoir. The dam was holding back nearly all the water before a member of the public removed some of the sand bags used to form the dam.
The third offence related to waste from Parkham Farms cheese factory, being spread onto land in breach of a condition of their environmental permit.
Wastes from manufacturing and other industrial processes fall under European waste legislation (European Directive on Waste). The recovery, reuse or disposal of these wastes are controlled by environmental permits. These permits contain conditions, with which the operator of the waste activity must comply.
Liz Iles for the Environment Agency said:
Slurry and farm washings can kill fish and other aquatic life by adding toxic pollutants and stripping oxygen from the water. It is therefore important farmers make every effort to ensure these farm wastes do not escape into our rivers and streams.
Farmers should maximise the use of slurry as fertiliser, ensure that slurry lagoons are empty by the start of winter and also have spare capacity for emergencies.
Appearing before Barnstaple magistrates, Peter Willes was fined a total of £4,280, Richard Marsden was fined £3,780 and the Parkham Farms partnership was fined £22,620.
Ends
Published 29 July 2015