World news story
Paralympics' Legacy Forum & Dinner
The Paralympics' Legacy Forum discussed the rights and achievements of disabled people, and the success of the London 2012 Paralympic Games.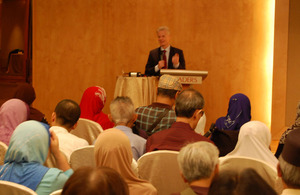 Last week, the British High Commission held a Paralympics' Legacy Forum attended by about 100 people. The guests included Lord Deighton, Commercial Secretary to Her Majesty's Treasury, Singaporean Paralympians and representatives from local disabled peoples organisations. Lord Deighton served as a Chief Executive of the London Organising Committee of the Olympic and Paralympic Games (LOCOG), which was the organisation responsible for planning the 2012 Summer Olympic and Paralympic Games.
Lord Deighton recalled the 'Singapore Promise', the pledge made when London won its Olympic and Paralympic Games' bid in Singapore in 2005 which stated that the power of the Games would be used to inspire millions of young people, both able-bodied and disabled, to choose sport. He said that it was London 2012's vision to hold the Paralympic Games that were a spectacle of equal standing to the Olympics.
Other speakers were Dr William Tan, Chevening Scholar, former paralympian and world-record holding wheelchair racer, Justinian Chua from the Singapore Disability Sports Council, Nick Finney from Save the Children, Ron Chandran-Dudley, long-serving Singaporean activists for disabled people and Braema Mathi, Chevening Fellow and President of Singapore Human Rights organisation Maruah.
Dr William Tan gave an inspiring speech on the potential of sport. Justinian Chua recalled his experiences at the London 2012 Paralympics, including the remarkable volunteers. Nick Finney spoke about the challenges facing disabled children in Asia, and how sport can help them. Ron Chandran-Dudley looked back on some of the achievements of disabled people in Singapore. Braema Mathi welcomed Singapore's recent signing of the UN Convention on the Rights of Persons with Disabilities and called upon Singaporeans to make the most out of this.
Jovin Tan and Maximillian Tan, two of Singapore's competitors at the London 2012 Paralympic Games, also attended the event.
Further Information
Published 22 April 2013