Press release
Paedophile has sentenced doubled under ULS scheme
A 'House Parent' Stephen Joyce who sexually abused children while working at a boarding school in Torrington, Devon has sentence increased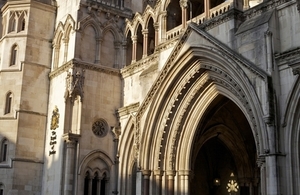 A 'House Parent' who sexually abused children while working at a boarding school in Torrington, Devon, will be locked up for longer. The Solicitor General referred the original sentence to the Court of Appeal under the Unduly Lenient Sentence scheme.
Over a 9 year period from 1980, Stephen Joyce, 66, woefully abused his position of trust by sexually assaulting vulnerable students aged between 12 and 14. Incidents of sexual assault against one of the victims, a 12 year old boy, would last for hours and Joyce would 'reward' him with chocolate eggs. On one occasion, Joyce withheld money until the victim submitted to sexual abuse.
After pleading guilty to all offences, Joyce received a custodial sentence of 7 years and 2 months when he attended Exeter Crown Court in May. Solicitor General, Robert Buckland QC MP, argued that the original sentence was unduly lenient. The Court of Appeal has today increased his sentence to 14 years 4 months.
Speaking after the hearing, the Solicitor General said:
"These young victims have been robbed of their childhood, and the abuse will have left lasting emotional damage.
"The original sentence did not reflect the seriousness of the offending. Crimes of this nature will not be tolerated and I am pleased that the Court of Appeal has increased the prison term."
Published 15 September 2017