World news story
Paddington comes to Ghana
"Paddington the movie" premiered in Accra.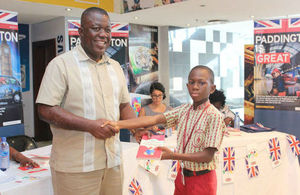 Paddington the movie Premiered in Accra on Friday the 15th of May. This wonderful children's film promotes Britain as a GREAT destination to visit, following the adventures of the famous bear that arrives at Paddington Station, London from deepest dark Peru.
Excitable children all neatly groomed, and commendably behaved from schools and organisations across Accra; a nod to their teachers and parents alike, filled the 277 seater cinema at silver bird cinema Accra. On their arrival, guests were greeted by the life size friendly Paddington mascot, who did well not to speak, but instead waved his larger than life paw and marmalade sandwich.
The event mirrored any great film premiere on par with that of Leicester Square in London, with a red carpet rolled out and freshly packed boxes of popcorn awaiting attendees. The VIP guests- stake holders from the ministry of Education, Gender and the Creative Art industries trickled in as they too were called upon to grace the occasion. What were they to expect? Those familiar with any children's film know to anticipate life size animation, laugh out loud humour, and moments of nostalgia. I definitely did. After months of planning and agonizing over details such as which beverage would add to the cinematic experience, (choices ranged between, fizzy drinks and water). I was eased in to my cushiony seat and opted for the former.
The two fold project, will see children undertake a creative exploration entitled "If Paddington came to Ghana where would he go?" is sponsored by the GREAT campaign. The Campaign is the most ambitious marketing campaign from the British Government, and aims to showcase the best of the UK, whilst encouraging both the young and old to go beyond the realms of their imagination and to promote concepts and creativity that showcase their country in the most prestigious light.
The Premiere screening concluded with a meet and greets session between schools and representatives from the Ministry of Education, Gender and Social Protection, Sub-Saharan Publishers and Mmofra foundation. Schools and organisations were presented with copies of the book "A Bear Called Paddington" by Michael Bond.
The famous children's book of which the film is based upon, sits firmly in many childhood memories for people across the world, and I am confident that this occasion will do the same for the hundreds of school children who attended.
Published 5 June 2015