World news story
Oxford Business Group signs memorandum of understanding with UKTI
Bahrain's drive to boost international trade a key focus of 2014 report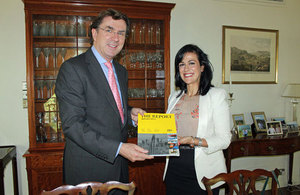 Bahrain, June 2014: The key role that Bahrain's competitive tax regime, regulatory framework and skilled workforce continue to play in attracting investment to the country will be analysed in the 10th anniversary edition of the report to be produced by the global publishing firm, Oxford Business Group (OBG).
The Report: Bahrain 2014 will highlight the opportunities in sectors of the Kingdom's economy which are set to drive new growth, including high-tech services, manufacturing and infrastructure.
The publication will consider Bahrain's potential as a gateway for investors looking to extend their reach into the huge Gulf market. It will also include a special focus on trade growth between Bahrain and the UK, as the two countries prepare to mark 200 years of diplomatic relations in 2016.
UK Trade and Investment (UKTI) Bahrain signed has a Memorandum of Understanding (MOU) for research facilities with OBG, in support of its forthcoming report.
UKTI is a UK government department which works with businesses based in the United Kingdom to help them achieve their potential overseas. As part of the MOU, OBG will work closely with UKTI's team to research and analyse Bahrain's latest business trends for its publication.
OBG's Regional Director for Middle East, Jana Treeck, said she was thrilled to be teaming up with UKTI at a time when trade ties between Bahrain and Britain were stronger than ever.
While the Great British Week earlier in the year affirmed the wide-ranging business links enjoyed by Bahrain and the UK across established fields, such as engineering, aerospace and advanced technologies, it also highlighted a raft of new opportunities for investors, particularly in infrastructure, transport development and regulatory environment," she said. "I look forward to exploring these exciting developments with UKTI and relaying them on the global stage in what promises to be, for many reasons, a very special report.
Iain Lindsay, the British Ambassador in Bahrain, said he was confident that the collaboration with OBG would raise awareness of the Kingdom's significant business opportunities, while providing a platform for the publishing firm to promote itself to the international business community.
The initiative follows the signing of similar agreements with UK Trade & investment in both Qatar and Kuwait and demonstrates the value we believe Oxford Business Group provides to commerce through their high quality publications," he said. "I am delighted to sign this agreement to work more closely with Oxford Business Group.
The Report: Bahrain 2014 will be a vital guide to the many facets of the country, including its macroeconomics, infrastructure, banking and other sectoral developments. The tenth-anniversary publication will be available in print or online.
Published 3 July 2014