Press release
Overnight bridge work on M5 to M6 link road near West Bromwich
Overnight work to replace bridge expansion joints on the M5 to M6 link road between West Bromwich and Walsall starts on Monday 10 March for six weeks.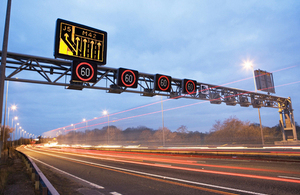 The joints allow structures to expand and contract with seasonal changes in temperature.
For the first three weeks the M5 northbound western arm, which carries northbound M5 traffic to the northbound M6 will be closed overnight.
From 31 March, also for three weeks, work switches to the M5 southbound eastern arm, which carries northbound M6 traffic to the M5 southbound. During the overnight closures of this section the M6 junction 7 northbound entry slip road will also be shut.
Highways Agency project manager Colin Jackson said:
This work will maintain safe and reliable journeys on this link road. To carry it out safely and efficiently we need to close the carriageway. We advise road users affected by the diversions to allow extra time for their journeys.
All closures take place from 9pm to 6am.
Traffic travelling northbound on the M5 intending to join the northbound M6 at junction 8 will instead be diverted towards the southbound carriageway via the eastern arm link road to junction 7.
Traffic travelling northbound on the M6 intending to join the M5 southbound at M6 junction 8 will continue to M6 junction 10 where it will turn round and head south to junction 8 where it can then join the M5 southbound.
Traffic intending to join the M6 northbound carriageway at M6 junction 7 will be diverted to the A34, A4041 Newton Road, A4031 All Saints Way, A41 and the M5 junction 1 where it can join the northbound carriageway and then join the M6 northbound via the M5 northbound western arm.
General enquiries
Members of the public should contact the Highways Agency Information Line on 0300 123 5000
Media enquiries
Journalists should contact the Highways Agency press office on 0844 693 1448 and use the menu to speak to the most appropriate press officer
Published 4 March 2014