World news story
OUR INNER GPS: A more than usually brainy Nobel Laureate
This was published under the 2010 to 2015 Conservative and Liberal Democrat coalition government
This is the third year in a row the UK has won one of science's Oscars, thanks to the work of British-American neuroscientist John O'Keefe.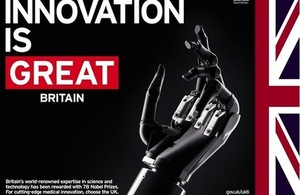 Professor O'Keefe , of University College London, was jointly awarded this Prize for Physiology and Medicine with two Norwegian researchers for the discovery of cells that constitute a positioning system in the brain – an 'inner GPS' – that enables us to orient ourselves. This is the latest in a long line of recent British winners, following Professors Higgs and Levitt in 2013, and Professor Gurdon the year before that.
Science matters to the UK. With four of the world's top ten universities, and more Nobel prizes per capita than any other large nation, the UK is internationally renowned for its research excellence. There is a strength, breadth and depth to our scientific activities that few countries can match. That is why we place such emphasis on science & innovation at the High Commission, led by our in house Science & Innovation team, with support from Trade & Investment colleagues.
South Africa is a natural science and innovation partner for the UK. South Africa leads the continent in terms of science and innovation capacity, has a sophisticated innovation infrastructure, and a mature and excellent science base. UK-South Africa research collaboration is lead by the flagship, UK-SA Newton fund. Launched in September 2014, the UK-SA Newton Fund brings together financial contributions from both sides to create a catalyst to stimulate socio-economic development in South Africa and more widely across Africa. The UK and South Africa have jointly committed up to £8m per year to support joint research projects, fellowships, exchange programmes, and to promote science and technology capacity building.
Document information
Published: 15 December 2014