World news story
OT Attorneys General gather in the Falklands
Attorneys General conference hosted in the Falkland Islands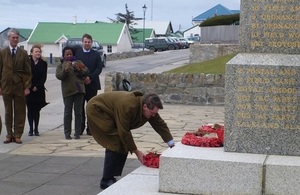 The Falkland Islands have hosted a conference for the Attorneys General of the UK's Overseas Territories (OTs).
Attorney General of England and Wales the Right Honourable Dominic Grieve QC MP led the event which was attended by representatives from 11 OTs and Crown Dependencies. Discussions focused on good governance and respect for the rule of law in all territories under the British flag, along with extradition arrangements and environmental protection.
Mr Grieve was pleased the 22nd OTs Attorneys General Conference was able to be held in the Falklands as it demonstrated the UK Government's "strong commitment" to the Islands as a democratic, self-governing OT. He said the event would bring together people facing similar challenges and allow them to exchange ideas.
While in the Islands, Mr Grieve visited the settlement of Goose Green where he learned about the Falkland Islands farming industry and had the opportunity to meet school children. He later laid a wreath at the Liberation memorial in Stanley, paying tribute to the sacrifices made by the British Forces in 1982 and in recognition of those who lost their lives "on both sides".
Published 15 November 2013