World news story
Opportunity to join a rail trade mission to Taiwan
UK Trade & Investment (UKTI) is organizing a trade mission to Taiwan to showcase the UK's railway technology and expertise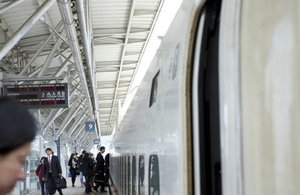 UK Trade & Investment (UKTI) is organising a trade mission to Taiwan from 17 to 18 November 2016 to showcase the UK's railway technology and expertise. It is a great opportunity for UK railway companies to explore Taiwan market.
The Taiwanese authorities announced ambitious plans to build six new metro lines and to undertake major upgrades to the traditional railway (mainlines) by 2030. This is part of its programme to build a low carbon economy and develop green transport to which they give a high priority.
Taipei City will lead on metro projects in Taipei, New Taipei City and Taichung City with a combined contract value of £9.4 billion. Potentially there will be plans for light rail projects in New Taipei and Kaohsiung cities. In addition, there will be a major maintenance programme of signalling upgrades for traditional railway with a total value of £2 billion.
Taiwan's mainline railway has been in operation for 126 years and Taipei metro for 20 years. It is likely that there will be further opportunities related to major maintenance work for the existing railway network and for the training of railway personnel in Taiwan.
The UKTI Taipei team has developed a close working relationship with the Taiwanese railway authorities to help encourage closer liaison with the UK railway supply industry to the benefit of both parties.
Companies interested in joining the Mission need to register before 3 October 2016. See 2016 Rail Mission to Taiwan -Outline programme (PDF, 223KB, 1 page) to find out more details or contact UKTI Taiwan Team:
Email: Annie.yi@fco.gov.uk/ Candy.kao@fco.gov.uk Tel: +886 2 8758 2014/+886 2 8758 2059
Published 22 June 2016