World news story
Opening of the Azraq Refugee Camp in Jordan
The camp is located 100km east of Amman and has the capacity to host 130,000 refugees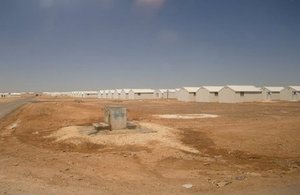 On Wednesday 20 April the Government of Jordan officially opened the Azraq Refugee Camp. The event was well attended by international community including the UK Ambassador Peter Millett and DFID staff. Peter undertook several interviews with local and international media outlets (including BBC radio 5live) to explain UK aid support.
The opening of a sixth refugee camp inside Jordan since the start of the Syria crisis over 3 years ago is a stark reminder of the protracted nature of the crisis. "The opening of the camp reinforces Jordan's continuing commitment to protect people feeling violence in Syria," said the UNHCR representative Andrew Harper. "Since the start of the conflict, refugees have found sanctuary in Jordan. Children have been able to attend schools, the sick have been treated in hospitals and most importantly, hundreds of thousands of people have found protection from incessant violence."
The camp is located 100km east of Amman and has the capacity to host 130,000 refugees. The camp has been designed taking into account the experience gained from Za'atari Refugee Camp (which has a population of over 100,000) to order to enhance the delivery of services and protection to refugees. Azraq Refugee Camp is managed by the Jordanian authorities through the Syrian Refugee Affairs Directorate in coordination with the United Nation High Commissioner for Refugees (UNHCR). In total 19 agencies (including DFID) are involved in addition to the Government in the provision of protection and assistance to Syrian refuges in the camp. UK aid contributions to Azraq Refugee Camp include $1.7 million for the construction of Azraq and the provision of 7,000 solar lanterns (through UNHCR) and $1 million for WASH facilities, hygiene kits, waste containers, and hygiene promotion (through UNICEF). UK aid has provided around £150 million to Jordan since the Syria crisis started more than 3 years ago.
There are over 580,000 registered Syrian refugees in Jordan and about 20% are in camps and the rest in host communities. For more information on UK aid in Jordan please click here Information Note (MS Word Document, 324KB) . For more information on the regional humanitarian response click here.
Published 6 May 2014