World news story
Open Data Civil Society Network in Macedonia
British Ambassador Charles Garrett launches programme on open data in Macedonia.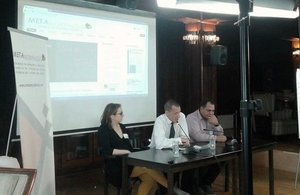 The importance of transparency, accountability and open data were among the key messages delivered today at the official launch of the programme on Open Data Civil Society Network in Macedonia. The project launched today will be supported by the British Embassy in Macedonia until spring 2016.
Our ambassador Charles Garrett was among the guest speakers along with the representatives of the partner implementers of the project Metamorphosis and Open Knowledge Foundation from the UK.
Speaking at the event ambassador Garrett said:
Transparency and openness of societies is very important. Informed citizens become more informed voters and can make informed choices about the society in which they want to live. We in the UK have had very positive experience in the work on open data. UK has been for many years longstanding supporter and partner to Macedonia, and we hope to be able to help in this area too, by sharing our best practices.
This programme builds on previous work that the UK has been engaged in Macedonia through the Open Government Partnership agenda. With this project we aim to build the capacity for a number of civil society stakeholders for promotion of open government agenda via establishment of School of Data Macedonia concept.
The project is supported through the Diplomatic Influence and Values – Reuniting Europe Fund (DIV-RE) from the Foreign & Commonwealth Office.
British Embassy Programme Assistance
Connect with us on Facebook or follow us on Twitter @ukinmacedonia
Check our Ambassador's Facebook or connect with him at @BritAmbCGarrett
Published 10 September 2014