World news story
Important consular and visa updates
Online Payments for UK visas; and new procedures for passport applications and adoptions in Tanzania.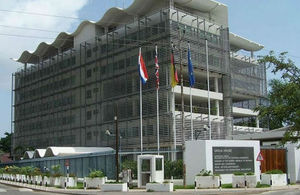 This Embassy does not deal with visa matters. For information on whether you need a visa to travel to the United Kingdom and how to apply, please see the UK Visas & Immigration page.
Changes to UK visa application process in Nairobi
The processing of visas to the UK for Tanzanian applicants will move from Nairobi to Pretoria from mid August. But the changes will make no difference to the way that visa applicants in Tanzania make and submit their applications.
Between August and December 2014, UK Visas & Immigration (part of the Home Office) will make changes to the way that visa applications made by applicants in East & Central Africa are processed.
Visas are now assessed by the UKVI visa section in Nairobi, but from 31 December all applications will be assessed by the visa section in Pretoria, South Africa. Tanzanian applications will transfer to Pretoria during August and September 2014.
These changes will make no difference to the way that visa applicants in Tanzania make and submit their applications. They will use the same visa application centre in Dar and there will be no changes to the cost of visas. The standard visa processing times will remain the same, and applicants will not wait any longer for a decision on their visa applications. Applications will continue to be assessed by Entry Clearance Officers in a British High Commission.
These changes have been made by UKVI as of part of a plan to reduce the number of visa sections and of the size of the overseas network. The visa section in Nairobi will be greatly reducing in size but it will not close, and a small team in Nairobi will continue to provide a limited service, including for officials and diplomats from Tanzania and other countries in the East & Central Africa region who apply in Nairobi in person or directly through the Tanzanian High Commission in Nairobi.
Additional measures in place overseas to help British Nationals who need a new or replacement passport.
Her Majesty's Passport Office (HMPO) is dealing with the highest demand for passports in 12 years and has issued over three million passports so far in 2014. However, demand continues to be high, and recognising people's understandable concerns about possible delays, the Home Secretary announced a series of additional measures to ensure people and families are able to travel and live overseas. The Foreign and Commonwealth Office has now confirmed details of how to access the additional services they are now providing to British Nationals overseas.
Passport extensions
British nationals living overseas whose passports have expired within the last six months, or are due to expire in the next three months (or seven months if they are in or going to a country that requires travellers to have 6 months left on your passport, can now have their passport extended for 12 months with an official stamp in their existing passport. This requires a minimum of three blank pages in the passport. Those who are eligible should contact their nearest Embassy or Consulate to make an appointment for this service. There will be no charge for this service.
Customers will need to bring their existing passport, and will need to complete an application form. Appointments are essential. We will check eligibility and confirm that the relevant country has agreed to accept passports extended in this way. Bookings for appointments are being taken now, and appointments will be available from 23 June, or as soon as we have received confirmation from the host country that they will accept the validity of passports extended in this way.
Customers who have already made an application to have their passport renewed cannot get an extension in their current passport, even if they still have their passport with them. Customers who need to travel urgently may be able to apply for an Emergency Travel Document. Customers should contact their nearest Embassy or High Commission to check if they are eligible.
Customers whose passports have recently been lost or stolen can apply for an Emergency Travel Document as usual.
Emergency travel documents for children
Parents or guardians of children living overseas who wish to travel may be able to apply for an emergency travel document in place of both new (first time) passport and passport renewals for their children.
Customers will need to provide the same information as when applying for a passport for a child if the child has not held a British passport before. In most cases, we will also ask customers to provide evidence that all those who have parental responsibility for the child agree to apply for an Emergency Travel Document for the purpose of the proposed travel, or provide evidence that they have sole responsibility for the child, e.g. a court order. Customers can then follow instructions to apply for an Emergency Travel Document.
Changes to the UK Visa Application Centre in Tanzania.
On 31 March, our new commercial partner for UK visa services, Teleperformance Ltd will take over the running of our Visa Application Centre in Tanzania. The Visa Application Centre will be moving from its current location at the British High Commission to different premises in Dar es Salaam as follows:
New Teleperformance Application Centre Address
Viva Towers,
294-295 Ali Hassan Mwinyi Road,
Upanga,
Dar es Salaam,
Tanzania.
Date of Relocation 31 March 2014.
UK visa customers will continue to complete their applications and pay their visa fee online at Visa4UK before selecting an appointment at the Teleperformance application centre.
Hours of operation at the new centre will be increased from 0800-1630hrs (last appointment is at 1600hrs), offering a wider range of daily appointments.
Our standard service levels will not change as a result of outsourcing to a commercial partner. Operating outsourced Visa Application Centre facilities allows us more flexibility to drive improvements in customer service with greater access to added value services such as priority visas and return courier options. We will work closely with our commercial partner to ensure continuity of service during the transition period.
All UK visa applications will continue to be decided by UK Visas & Immigration staff.
We are listening to the needs of our customers and these changes will improve our service by increasing the number of visa application centres globally and expanding the number of locations and countries where premium services are available.
From 3rd February 2014 all applications for a UK visa must be completed using our online application system and paid for online in US Dollars. Payment can be made using Visa or MasterCard credit or debit cards, or the Skrill e-wallet.
The move to online application and payments will deliver a streamlined application process and is consistent with a wider global trend to online transactions and payments. It meets the requirements of the UK Government's Digital by Default initiative and will help cut costs in the management of the visas operation, which in turn helps to keep visa fees down. It will also be a safer system for both customers and staff as it reduces the risk associated with handling large amounts of cash during the visa application process.
For more information, visit the Home Office website.
The Department for Education (DfE) has introduced new adoption legislation and revoked the old adoption legislation. Tanzania is not included in the new adoption Order 2013.
"The Department for Education (DfE) has now introduced new adoption legislation (the adoption Order 2013) and revoked the old adoption legislation (the 'designated list'). Tanzania is not included in the new adoption Order 2013. Domestic adoption orders made in Tanzania on or after 3 January 2014 will no longer be automatically recognised in England and Wales and Scotland and these children will no longer have an automatic entitlement to British nationality through their adoptive parents. If British prospective adopters wish to adopt in Tanzania and then return to the UK with the child they will need to complete the domestic adoption process, apply for a UK visa for the child and then apply for a UK adoption order on their return to the UK.
You should contact UK Visas and Immigration and the Department for Education for more information."
All new applications for full British passports from 8th October to be done by HM Passport Office in the UK.
We are making important changes to the way we deliver British passports. The UK government's goal is to ensure that all British nationals living overseas receive a consistent, trusted, secure and efficient service whilst keeping the costs as low as possible. In order to do that responsibility for issuing passports overseas passed from the Foreign Office and its posts overseas to Her Majesty's Passport Office – an Agency of the Home Office, which already handles all passport applications from people living in the UK. This includes reduction in passport fees for UK citizens overseas.
From 8 October 2013, British nationals in Tanzania will submit passport applications to Her Majesty's Passport Office in the UK for processing. All the information needed to complete the passport application process will be available on the website at overseas-passports. You should avoid leaving applying for your passport until the last minute. You can apply to renew your passport at any time. Any remaining validity up to nine months will be transferred from your old passport to your new one. If you are renewing your passport, you should allow at least four weeks from the date the fee is taken and all the correct documentation has been received. If you are applying for the first time or you are replacing a lost or stolen passport, you should allow at least six weeks. Your application may take longer if Her Majesty's Passport Office needs to request further information. Travel should not be booked until the new passport has been issued and received by the applicant. The British Government cannot accept responsibility for costs incurred if travel is booked and subsequently cancelled before the passport has been received. The new passport and supporting documents will be delivered separately by DHL to the address you provided in your application.
If you need to travel urgently but your normal passport is not available, you should contact the nearest Consular Assistance team in Tanzania. In certain circumstances our staff may be able to issue an Emergency Travel Document but this is not a substitute for a full UK passport. So the best course of action is to apply as early as possible, and to make sure that you follow the new guidelines.
Details of how to get a passport extension or emergency child travel document can be found here. If you want to make an appointment, contact our Consular section using the details as the foot of this page.
Please note that our Diplomatic Mission is not able to take calls about individual passport applications and Consular staff cannot countersign passport applications. If you cannot find the information you need on the gov.uk website, please contact the Passport Advice Line on +44 300 222 0000 or email overseasNewportCCC@hmpo.gsi.gov.uk
Published 4 February 2014