News story
One thousand safe days for complex Sellafield project
Sellafield and supply chain workers have worked for one thousand days on one of the site's most complex projects, without an injury.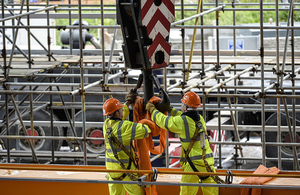 Employees working on the Silo Maintenance Facility (SMF) at the site have safely navigated some challenging construction tasks while making significant progress to support the clean-up.
The safety performance was achieved during a particularly difficult phase in the construction of the building which included working at height throughout the winter months, including the use of a mobile crane that weighs 450 tonnes – the same as a Boeing 747.
The team also erected the structural steelwork for the building, with each beam weighing more than two double decker buses, before installing the outer cladding, all of which was delivered on time.
The continuing emphasis on safety and the promotion of a positive safety culture by both Sellafield Ltd and contractors Cavendish Nuclear and Balfour Beatty has resulted in this excellent safety performance.
Those leading the project put it down to their 'zero harm' system and traffic management plan, which encourage workers to record any issues or near misses and exercise extra vigilance when moving around.
Kevin Bell, Project manager explains:
We have a highly focused and dedicated safety team within the Sellafield Ltd and contractor's team, who are proactive and respond well to any issues that are raised.

The contractor SMF Delivery Team Cavendish Nuclear/Balfour Beatty have developed some excellent standards and expectations out on the site, through the use of their Zero Harm observation cards, which are used to record any issues, observations or near misses and this continued to deliver throughout the construction phase of the project.
When completed, SMF will support the retrieval of historical nuclear waste from the site's legacy plants, Magnox Swarf Storage Silos (MSSS) and Pile Fuel Cladding Silo.
In particular, it will help the MSSS Silo Emptying Plant retrieval machines by facilitating tool changes and loading new equipment prior to deployment on the plant.
Published 31 August 2016