World news story
Ombudsman, British Embassy ink memorandum of agreement to fight corruption
The British embassy and the Philippines' Office of the Ombudsman are partnering to help boost the agency's anti-corruption efforts.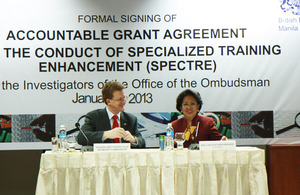 The Office of the Ombudsman and the British Embassy Manila entered into a Memorandum of Agreement (MOA) on the Accountable Grant for the Conduct of Specialised Training Enhancement (SPECTRE) on 7 January 2013. Ombudsman Conchita Carpio Morales and British Ambassador Stephen Lillie signed the MOA at the Office of the Ombudsman in Quezon City.
The MOA aims to strengthen the institutional capacity of the Ombudsman's office against corruption by enhancing the investigative and intelligence capability of field investigators through a sustainable training program leading to at least 10% increase in disposition rate for corruption cases.
The SPECTRE is designed to continually reinforce, update and intensify the knowledge and capabilities of field investigators. The training is scheduled to begin on 25 January 2013 for the first batch.
Ombudsman Morales stressed that it is imperative to strengthen the investigative capability of OMB investigators who must be one step ahead in techniques, strategies, skills and technology in their work. She also said that there is a need in forging alliances with development partners like the British Embassy to combat corruption.
British Ambassador Stephen Lillie acknowledged the Philippine Government's anti-corruption efforts as one of the key factors that can boost the country's economic growth.
Ambassador Stephen Lillie said:
President Aquino's anti-corruption slogan 'kung walang corrupt, walang mahirap' has clearly resonated with the public and is widely supported by businesses… The anti-corruption agenda is at the heart of efforts to bring greater prosperity and development to the Philippines. Confidence in government and a level playing field free from corruption can boost trade and investment and can help the Philippines reach its potential to be perhaps the 16th largest economy in the world by mid century.
We hope to continue supporting the Office of the Ombudsman, particularly in skills development. We believe that strengthening the capacity of investigators and prosecutors will help result in a stronger enforcement of the law and produce successful prosecutions of more cases of corruption; ultimately improving the international reputation of the Philippines as an excellent place in which to do business.
In 2012, the British Embassy has supported the government's anti-corruption drive by promoting what the UK's bribery act requires of companies. The British Embassy also worked with the Bangko Sentral in bringing in UK experts to help train government agencies and key stakeholders on the advancements in anti-money laundering laws and enforcement.
Published 8 January 2013