World news story
Olympic Values Training in Dar es Salaam
British High Commission through the British Council and partners funds Olympic values training project for 200 children in Dar es Salaam.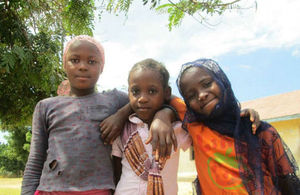 The British Council with funding from the Foreign and Commonwealth Office's 'Olympic Legacy Fund' and with help from young leaders associated with 'International Inspiration' recently trained some 200 children in Olympic and Paralympic values. The work is part of the UK's London Olympic legacy work.
The aim of the training was to increase cooperation and improve relationships between communities, schools and street children's centres in Dar es Salaam through Olympic values training, local volunteerism and community open days.
International Inspiration is London 2012's international sports legacy programme, inspiring and enabling millions of young people in countries around the world to play sport. In Tanzania it aims to address the national challenges facing sport in a holistic way, and is engaged from the highest levels of government to the grass roots of local community clubs, sports federations and schools.
Chairman of the London 2012 Olympics Organising Committee, Lord Coe visited Tanzania in 2012 and witnessed the benefits of International Inspiration. Lord Coe highlighted his visit during the opening ceremony of an International Inspiration photo exhibition in London, where he witnessed how "British Council Tanzania is drawing on all its experience and expertise to help ensure that the UK fulfils its promise that (the Olympic Games) touch the lives of young people all over the world."
The activities of this project build on the success of existing work in Tanzania and maintains the momentum in sport created by the London 2012 Olympics and Lord Coe's visit to Tanzania. It also taps into the opportunity of the FIFA World cup in Brazil in 2014 to provide a bridging event to the next Olympics in Brazil in 2016.
The next stage of the project will feature a football tournament in Dar es Salaam in mid September at which a few lucky children will be chosen to go to the next Street Child World Cup in March 2014 in Brazil.
The aim is to ensure that the momentum created as a result of the London Olympic vision continues to touch the lives of young and vulnerable Tanzanians for generations to come.
For more information :
See picture gallery British Council Tanzania
Published 27 August 2013