Olympic Torch is "Britain's moment to shine": Nick Clegg
The Olympic Torch will showcase the people and places that make Britain great, Deputy Prime Minister Nick Clegg said today.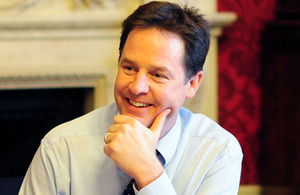 Speaking as he prepares to welcome the arrival of the Olympic Flame in the UK at RNAS Culdrose in Cornwall, the Deputy Prime Minister said:
The arrival of the Torch marks the start of the final countdown to the Games. The whole of the country is ready, eager and waiting to welcome the world to the UK for a summer of sporting and cultural celebration like no other. This is Britain's moment to shine.
Read the full text of the Deputy Prime Minister's words on the Government Olympic Communication website.
Published 18 May 2012