News story
ODA reports on 2012 and task ahead in final year
The Olympic Delivery Authority's Annual Report and Accounts highlights its role during London 2012, and the work that remains.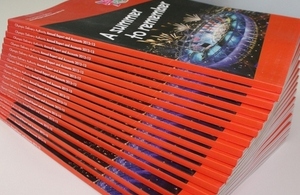 The Annual Report profiles London 2012 venues built by the ODA and its contractors, including information on construction, Games-time use and legacy plans – illustrated by photographs of champions like Usain Bolt, Michael Phelps, Jessica Ennis and Team GB's cycling, rowing and canoeing gold medallists.
It includes sections on the ODA's role during the Olympic and Paralympic Games – showcasing its responsibility for transport and implementing advertising and trading regulations, and its work on the Olympic Park to ensure venues operated without a hitch, and that the parklands were in top condition for the millions of spectators.
And there are more than 60 pages of detailed financial information, including annual accounts. These show that the Anticipated Final Cost (AFC) of the ODA's programme of work was £6.711 billion at the end of the financial year – slightly down on the previous figure, published by the Government Olympic Executive in October 2012.
Chairman Sir John Armitt extends the organisation's thanks to stakeholders that worked with the ODA during the construction of venues and infrastructure for London 2012, Games-time partners, the Authority's staff and Board, the London Organising Committee, local communities, and the wider UK public for its funding.
He said: "For the Olympic Delivery Authority, it all came together – not just for us, but for so many thousands of spectators who filled the venues we built and maintained, crossed the bridges we constructed, enjoyed the parklands we grew, and got to their Games on time, thanks to the transport strategy we devised and the system we helped deliver."
Gerry Murphy, Chief Operating Officer since April 2013, identifies the activity remaining for the ODA before it closes in 2014.
She reports on the ODA's work since the Games to transform the Olympic Village into the new East Village, which is due to have its first residents move in later this summer, as well as closing out commercial contracts and preparing the organisation to cease operating within the next year.
The ODA's priorities continue to include securing value for money for taxpayers, preserving its strong record on health and safety, and ensuring lasting benefits from the Games – whether in ensuring that lessons learned by the ODA are preserved for future generations, or construction activity at East Village, including the 1,800 student Chobham Academy and Sir Ludwig Guttmann Health and Wellbeing Centre.
Gerry Murphy said: "These will all be opening their doors for the first time this summer – a sign of the ODA's commitment to building not just new sports venues and the Olympic Park, but a whole new community with all the supporting infrastructure you would expect. This is the living proof of the legacy of London 2012."
ODA Annual Report and Accounts 2012-2013 (PDF, 5.85MB, 116 pages)
Published 16 July 2013