World news story
OBE ceremony for Mr. Ehab Gaddis
Investiture ceremony for Mr Ehab Gaddis for his exemplary services to the British Community in Luxor, Egypt.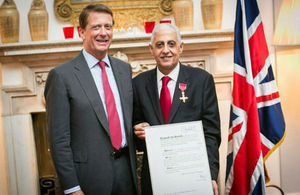 On 31 October the investiture ceremony for Mr Ehab Gaddis took place at the Ambassador's residence. Mr.Gaddis was awarded an Honorary Order of the British Empire (OBE) on 13 June 2013. The guests attended included the Luxor Governor and members of the British community as well as Embassy staff.
Her Majesty's Ambassador James Watt, paid tribute to Mr. Gaddis for his exemplary services to the British Community and the British Embassy over the years. He commended him for his dedication, commitment, and passion in helping British citizens through difficult situations over the years. His support to the British embassy in Cairo has been exceptional and is greatly appreciated.
Mr. Gaddis became an Honorary British Consul for Luxor in 1997. He was born and raised in Luxor and his family is renowned for establishing Gaddis stores in 1907, the oldest souvenir and book shop in Luxor which his wife Manal helps him operate. As well as managing the family business he also owns the Gaddis hotel.
The OBE is awarded for having a major local role in any activity, including people whose work has made them known nationally in their chosen area.
View the photos here