Press release
Northumbrian Water Ltd fined £30,000 over pollution incidents
Company in court over two separate offences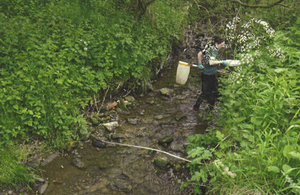 Northumbrian Water Ltd has been fined a total of £30,000 for two sewage pollution incidents that happened last year.
In two separate cases that were both heard before Peterlee Magistrates' Court on 22 April, the water company admitted and was sentenced for two offences of discharging polluted matter into watercourses.
Chris Bunting, prosecuting for the Environment Agency, told the court that the first pollution incident affected Kyo Burn, the source of the River Team, situated to the south west of Stanley, in June.
The watercourse was running an unusual grey colour and smelt of blocked drains, and an ecological survey found sewage fungus and dead invertebrates along a 1.8 kilometre stretch of the watercourse.
Investigating officers found that the burn had been affected by sewage discharge from a storm overflow on the Tanfield Trunk Sewer.
In normal circumstances, the storm overflow only allows a discharge in times of heavy rain, to alleviate flood risk. But the overflow had operated incorrectly because of a blockage, and the company had not been aware because its monitoring equipment on the sewer was not working correctly.
The second pollution incident occurred in August in Bowburn Beck, which flows into the River Wear south of Durham City.
This watercourse had been affected with sewage when a blockage in a sewer had caused a manhole cover to lift, allowing sewage to flow out, across a farmland and into the beck.
Northumbrian Water was informed about the problem, but failed to investigate the issue for four days. It claimed that it had difficulty accessing the site because of the presence of dogs on the farm, although alternative access routes could have been considered.
The firm eventually found that the blockage had been caused by rags, oil, fat and grease.
Water samples and an ecological survey showed that a one-kilometre stretch of Bowburn Beck had been significantly affected. There were high numbers of dead and dying invertebrates, with a small number of dead fish. There was also a thick sewage fungus present.
Northumbrian Water Ltd admitted one offence for each of the pollution incidents. For the Kyo Burn offence, the company was fined £14,000 and ordered to pay £3,996.04 costs and a £120 victim surcharge. For the Bowburn Beck offence, the firm was fined £16,000 and ordered to pay £4,772.52 costs.
Graham Siddle, Environment Management Team Leader at the Environment Agency, said:
In both of these incidents, the sewage had a detrimental effect on the natural environment. That's why it is vital that water companies and other industries ensure they work within the rules and meet all conditions of their environmental permits.

Where possible, the Environment Agency works with companies to help them meet their environmental obligations, but where significant breaches are seen, enforcement action will be taken.
Published 23 April 2014