Press release
Northampton man has sentence increased to life for brutal rape
Gintas Burinskas' sentence becomes one of life imprisonment with a minimum term of 6 years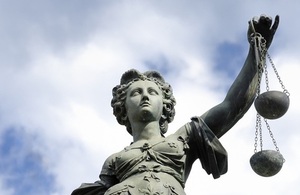 The Court of Appeal has today handed down judgment in case of Gintas Burinskas. It found his original sentence unduly lenient and replaced it with one of life imprisonment with a minimum term of 6 years.
In the early hours of Boxing Day, 2012, Gintas Burinskas attacked and raped the lone female victim as she walked along a street in Northampton. The offender and the victim were not known to each other. After the rape the victim tried to escape and was attacked again. Burinskas kicked her to the ground before kicking her to the head, stamping on her body and punching her twice in the stomach. Her lower jaw was fractured and she lost two teeth
On 11 April 2013, at Northampton Crown Court, after pleading guilty to two counts of rape and causing grievous bodily harm with intent, Judge HHJ Mayo sentenced Burinskas to 7 years' imprisonment with an extended period of licence for 3 years. The Solicitor General, Oliver Heald QC MP referred that sentence to the Court of Appeal which heard it on 20 November last year.
The Solicitor General, Oliver Heald QC MP said:
This was a particularly vicious, prolonged and totally unprovoked attack where the victim feared for her life. When she tried to escape she was brutally beaten.

I asked the Court of Appeal to look at the sentence imposed in this case as I felt the original sentence was too low, given that Burinskas had only recently been released from a 10 year sentence of imprisonment for a rape committed in his native Lithuania. The Court of Appeal in its judgment has acknowledged that the extended sentence originally imposed did not adequately protect the public and that Burinskas is a very dangerous criminal. To protect the public the Court has quashed the original sentence and substituted it with a sentence of Life imprisonment, with a minimum term of 6 years.
Burinskas is a Lithuanian national. He arrived in the United Kingdom in November 2012 having recently been released from serving a lengthy term of imprisonment in Lithuania for another offence of rape committed in 2002.
Media enquiries 020 7271 2440
Published 4 March 2014