World news story
Nominations invited for Falklands award
Queen's Certificate & Badge of Honour recognises contributions to the Islands.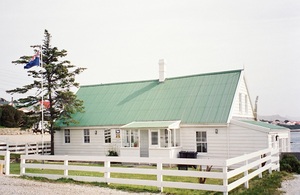 Do you know someone who has gone the extra mile for the Falkland Islands? Perhaps you should consider nominating them for the 2013 Queen's Certificate and Badge of Honour.
The award is a way for the Falkland Islands Government (FIG) to recognise people with connections with the Falkland Islands who have, by their loyalty and meritorious conduct, provided services of exceptional benefit to the people of the Falkland Islands.
The Queen's Certificate and its accompanying Badge of Honour will be awarded by His Excellency the Governor, acting on the advice of Executive Council, on or around Falkland Day (14 August). The number of recipients is normally restricted to three a year and the names of Queen's Certificate recipients is published in the FIG's Official Gazette.
Anyone can nominate a person for the award and nomination forms are available on request from the office of the Falkland Islands Legislative Assembly in Gilbert House, Stanley.
Nominations should be submitted before Friday 15 June to the Clerk to Executive Council at Gilbert House (tel 27451) or by email to assembly@sec.gov.fk.
Published 15 May 2013