Nick Clegg slams bullying
A video message from the Deputy Prime Minister to mark Anti-Bullying Week.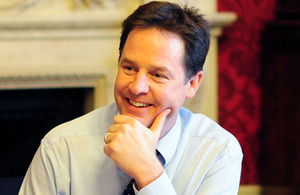 To mark Anti-Bullying Week, the Deputy Prime Minister has sent a message to young bullies that their behaviour will not be tolerated, that teachers will be given the authority to crack down on bullying, and that schools will be able to deal with bullying even when it occurs away from their premises. 
In a video message, he warned that the prejudices that start at school, such as homophobia, can have lifelong effects, and called for schools to join the Coalition Government in adopting a zero tolerance approach. 
The broadcast of this message followed a meeting with the Beat Bullying Campaign, who presented him with a petition from their Big March campaign against bullying. Mr Clegg promised to consider carefully the campaign's calls for a review of bullying guidance across government.
Published 17 November 2010