Nick Clegg sets out plans to end child detention
Deputy Prime Minister Nick Clegg has said the government is to end the detention of children in immigration centres.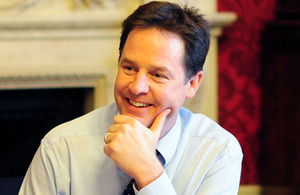 Nick Clegg sets out plans to end child detention
The government is to close the family wing of Yarl's Wood immigration centre in Bedfordshire immediately, so that no child will remain in detention this Christmas, with the practice to end completely by May.
The UK Border Agency will now follow a new four-stage process focused on engagement with families during the decision making process, so parents can be more involved in how and when they return, where they have been found to have no legal right to stay in the UK. The new measures will ensure a family's return home is safe and dignified.
Mr Clegg said the new system will allow families to leave with ease, with dignity and with help for them to resettle.
He added:
The coalition government has always been clear that the detention of children for immigration purposes is unacceptable.

We are placing the welfare of children and families at the centre of a fairer and more compassionate system.

In recent years we have seen hundreds of children, who have committed no crime, locked up in detention centres. Today we show how we will ensure it never happens again.
Immigration minister Damian Green said:
I believe our new measures are both humane and fair. We are providing assistance packages, and family conferences to ensure families understand their options, and will be trying to ensure that families can remain in the community prior to their departure home.
Read more: New compassionate approach to family returns
Full speech: Child detention speech
Published 16 December 2010