Nick Clegg raises a toast to Scottish Industry
Deputy Prime Minister Nick Clegg has congratulated Scottish industry as global exports of Scotch whisky head towards a record year.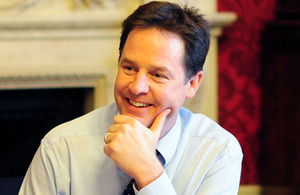 The Deputy PM was visiting the Strathisla distillery in Keith where he announced exports grew by 12 % in the first ten months of 2010, with significant increases in sales to the emerging markets of Brazil, Russia, India and China.
Nick Clegg said:
I would like to raise a toast to the Scotch whisky industry, as 2010 shapes up to have been a record year for exports.

The dynamic Scotch whisky companies are making great strides to exploit new markets and new opportunities and the UK Government will continue to do whatever we can to assist them.
The Deputy PM visited the distillery after hosting a summit in Aberdeen with business leaders that included representatives of BP, CBI Scotland and Scotch Whisky Association. Discussions included the private sector's confidence in the UK economy and what more the Government could do to create new jobs.
He added:
I was glad to see evidence this morning of the verve and ambition in Scottish industry.

The Government is determined to create the right environment for the private sector in Scotland to thrive: to create jobs, develop skills and ensure that the whole of United Kingdom has the opportunity to share in the country's future prosperity.
Published 20 January 2011